Food & Drink
Our BBQ Champ Teams with Margerum
Rodrigo Gimenez Grills Up for Open House at Doug Margerum's New Winery
When Rodrigo Gimenez was crowned amateur champ of this paper's Sizzling Summer BBQ Contest in June, the Argentinean architect planned to go back to the drafting board as soon as his work visa came through. That finally happened this month, but instead of designing buildings, Gimenez is sticking to the grill, planning to become a professional chef while putting his architecture career on hold.
"This is my passion," said Gimenez, whose first big gig is this Sunday's open house for the brand-new winery facility of veteran vintner/respected restaurateur Doug Margerum. "I love to eat and drink and talk with people."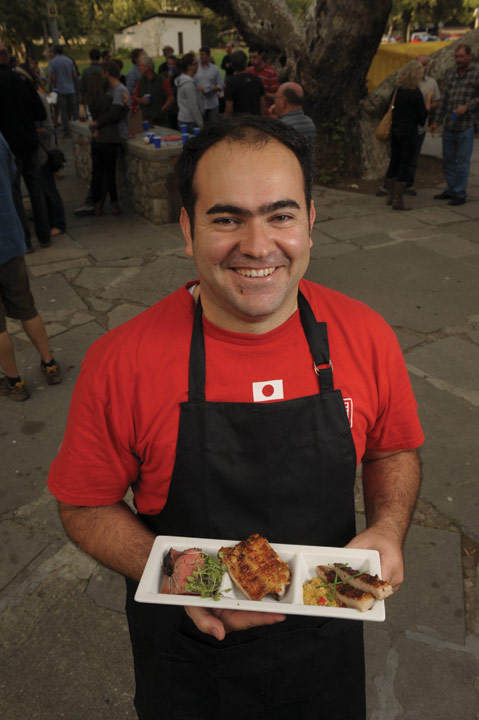 Margerum first tasted Gimenez's food while judging the June contest and knew it would be a good fit for the afternoon's "high-quality, rarely seen" Margerum Wine Company, Happy Canyon Vineyard, and Cent'Anni wines. "Their fruitiness and structure will complement the wide range of flavors Rodrigo is planning to create," said Margerum, who's consolidating all of his operations under one roof in one of the warehouses on Industrial Way in Buellton and noted that a few growlers from Figueroa Mountain Brewing next door might also make an appearance.
Gimenez's mouth-watering menu includes corn pudding empanadas; veggies grilled in a steel disc; burnt tomato, goat cheese, and anchovy crostinis; chicken milanese with smashed potatoes;
grilled sirloin caps with variety of chimichurris; blood, chicken, and chorizo sausages; sweetbreads in green sauce; and pork ribs in lemon cream sauce. All of it will be grilled over an open flame in a barbecue that Gimenez is building on-site out of cinder blocks. "The main idea is to cook with fire," he explained. "That's how we do it in Argentina."
Though he'll always have architecture as a fallback, Gimenez is dreaming of much bigger food ideas for the future. "It's an amazing opportunity and possibility to start doing this," said Gimenez. "Thanks to the newspaper, this could be my new job."
4•1•1
Rodrigo Gimenez heats up the grill for Margerum Wine Company's open house on Industrial Way in Buellton this Sunday, September 2, 1-4 p.m., with wine, food, and winery tours with barrel tastings for $30. See margerumwinecompany.com, call (805) 845-8435, or stop by the tasting room at 813 Anacapa Street for tickets.