Outdoors
Gaviota Peak Dayhike
Circumnavigating the Picturesque Peak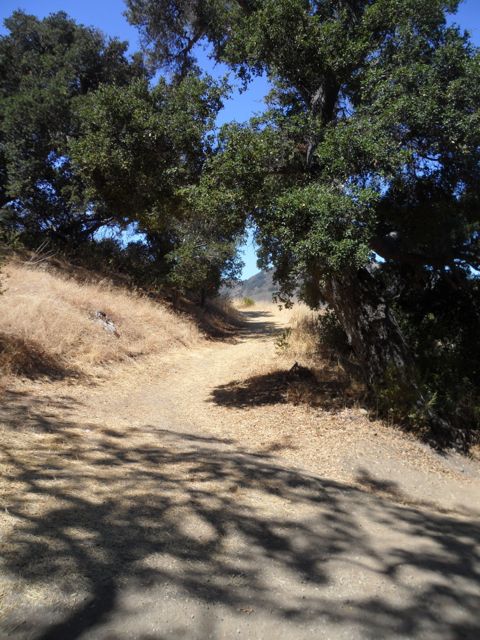 Name of hike: Loop-dayhike from Gaviota State Park (inland)
Mileage: 6 – 7 miles circumnavigating picturesque Gaviota Peak: Take the "Trespass Trail" (PHOTO 2) and hike oceanward around the 2,460 ft. mountain, then cross over the top, finally joining the fire-road and descending 3.1 miles back to your parked car.
($2 State of California parking fee, bring one-dollar bills)
Suggested time: 3 hours steady hiking. Most of the first half is steep uphill trail hiking, with magnificent vistas all round. (The 66-mile roundtrip on 101 North from Santa Barbara's Westside takes about 80 minutes total driving time. See the box below for driving directions.)
This relatively easy dayhike to and around Gaviota Peak (2,460 ft. above sea level) begins and ends with one of loveliest freeway drives in California. From my home on Santa Barbara's Westside, it's exactly 33 miles on the truck's trip odometer to get to the inland Gaviota State Park's rustic parking area, most of it along the gorgeous stretch of 101 north of Goleta. On the way I can work on "mindfulness" while appreciating most of the northern Channel Islands, Refugio State Beach with its stately palms, the hauntingly beautiful ruins of Vista del Mar school, the astonishing Gaviota coast, and the Gaviota Tunnel.
We'll be heading inland on this foggy Labor Day, September 7, through the tunnel. My two friends Chris and Marc joined me for this half-day training caper. We're making this basic workout dayhike into a more interesting loop trip. Thus we'll be able to see twice as much terrain as we encircle this knob. It seems hardly accurate to call it a mountain, though in contrast to the coastline the it looms large.
We park the black truck at an inland access point to Gaviota State Park (not Gaviota State Beach!) in order to hike on an interior portion of the park.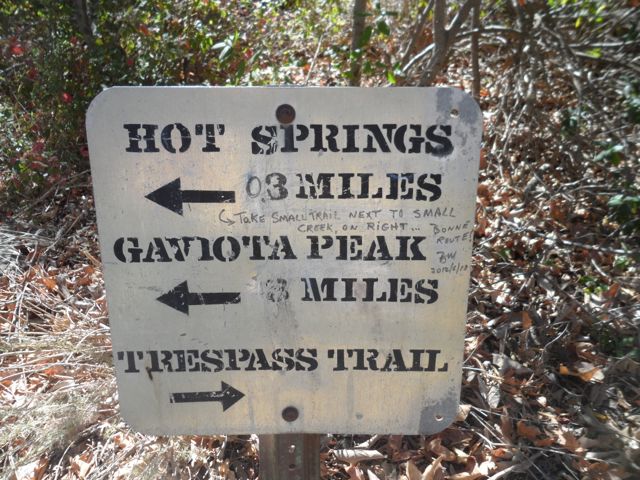 The only way to begin your hike is up from the parking area, amid giant sycamore trees. After a .3 mile steep ascent you meet the forking path with three trail choices: straight ahead takes you into Gaviota Warm Springs; a left turn takes you more directly to Gaviota Peak on the well-groomed fire-road; and the right choice is my favorite selection: Trespass Trail.
Trespass begins as an old and wide road beneath gorgeous oaks heading oceanward amid pleasant grasses, now parched to an attractive straw-yellow. We're mainly on the south side of Gaviota Peak and the road/trail is pretty steep, offering amazing vistas onto giant fog rollers riding high above the Pacific beyond Gaviota Pass.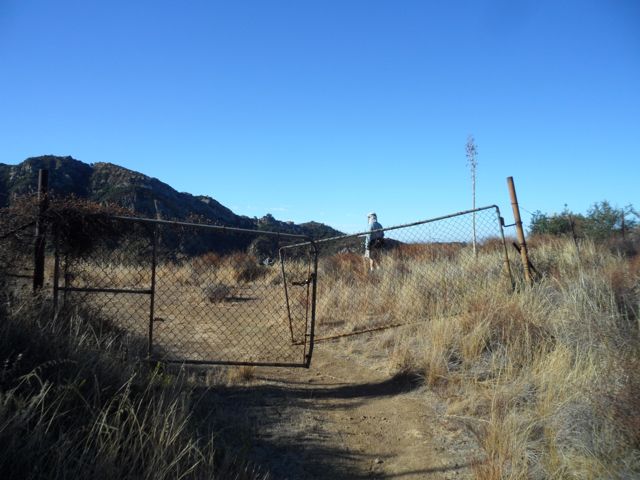 The increasingly narrow "road" clambers up the rounding mountainside, through "First Gate," which you should remember to carefully refasten, until we're able to see back down the Santa Barbara coastline toward Refugio and El Capitan State Beaches.
Constantly ascending. Southern views out onto the Gaviota coastline, nearby craggy hills covered with chaparral. While the cloud cover was fairly thick on that Labor Day Monday, it did finally thin out and we glimpsed the top of Santa Cruz Island's soft dark silhouette.
Amid the astounding views we had from all sides was also an overwhelming quiet pierced only by the cries of a few birds. Ensconced in a massive blue sky, sans power lines and machine noise, we never encountered other humans until we got to Gaviota Peak itself. In this two-hour silence lie impressive possibilities.
Noted professor of medicine Jon Kabat-Zinn writes about the joy we derive when we manage to get back to our "beginner's mind." It is also called "mindfulness" practice, to enhance awareness. The overpowering quiet and long views on Gaviota Peak's southern flank helped with this essential reversion. We three hikers were stunned into individual cones of silence.
Kabat-Zinn writes about patience, and how so many of us are usually rushing to "someplace else," constantly multi-tasking and trying to stay on task (s). We're anywhere but at home within ourselves. He writes that patience can take us deeper into mindfulness. "The practice of mindfulness is already, in some fundamental sense, about stepping out of time altogether." It felt like I had stepped out of time out there on Gaviota Peak, wandering along on a well-defined trail (you pass through a second gate, too) with low chaparral plants on both sides. And as I meandered several hundred yards behind my two rampaging friends, it was easy to relax into more patience. Solo trudging sometimes enforces mental silence.
Psychologist Lawrence Kahneman calls this a kind of creative inter-zone between "Fast Thinking" and "Slow Thinking" – it's quite relaxing even though you are hiking hard uphill.
We passed by some interesting, shallow caves, and recalled huddling in them to get out of a rainstorm earlier this year.
From here the trail continues steadily up until you reach the top, where we encountered a silent man with earbuds who ignored us as we looked into the message can. At the top there is also a USGS survey marker with the elevation. The views are splendid from this vantage point.
We headed north down from the peak, met the fire road coming up from the parking area, and headed down on it for 3.1 miles to our truck.
Along this inland path we had interesting vistas including spectacular views of the "new" Vista del Mar school (shouldn't it be called Vista del Canon now?) and of Highway 1 heading on to Vandenberg Air Force base.
The return fire road is a bit tedious and simply heads down and down some more. In sum, this dayhike took about 3 hours of steady walking, 2 uphill and 1 more pushing it down to the parking area, past the Warm Springs again.
Driving to roadhead at Gaviota State Park (inland) from Santa Barbara: Driving north on U.S. 101, after 33 miles watch for the split for California Highway 1 (Vandenberg) and take it; turn rightat the off-ramp stop sign and immediately right again on the frontage road. Drive 0.3 miles south to the Gaviota State parking area (opens at 8 a.m.) Pay the $2. Only one trail (up).