Briefs
NLRB Rules Against News-Press Again
Finds Santa Barbara's Daily Paper Was Bargaining in Bad Faith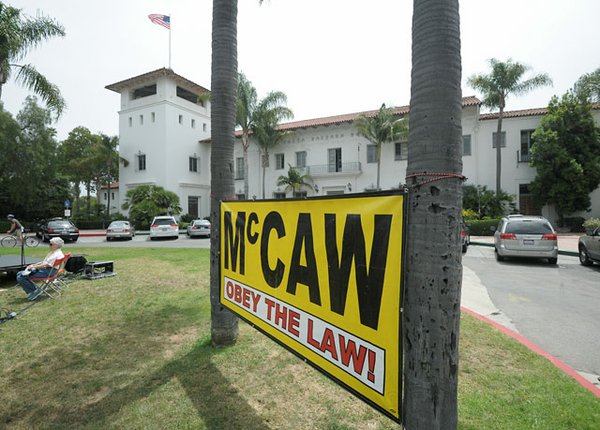 In its second decision against the Santa Barbara News-Press in a year, the National Labor Relations Board on Thursday affirmed a judge's finding that the paper was bargaining in bad faith. The newsroom union has been in fruitless contract negotiations with management since 2007.
There was no immediate response from the paper, but it is expected that owner Wendy McCaw will appeal to a federal court, as she did in August 2011, when the NLRB ordered her to reinstate eight reporters illegally fired for protected union activities. The case is being closely watched in the newspaper industry due to possible effects on labor relations.
Thursday's decision, affirming a May 2010 determination by Administrative Law Judge Clifford Anderson, also ordered the reinstatement of columnist Richard Mineards, now a columnist for the Montecito Journal, along with back pay and benefits since 2009. The paper was also ordered to reinstate employee Dennis Moran, member of the bargaining committee, who was terminated by newsroom manager Scott Steepleton on what Ira Gottlieb, Teamsters' attorney representing the newsroom, called "trumped-up charges."
In Thursday's decision, the NLRB also found that the newspaper violated federal labor law on a number of other counts, including encouraging employees to not cooperate with NLRB investigations.
The NLRB also said that the paper's bad faith bargaining was "aggravated," and its proposals "so extreme that they would leave employees and the union with fewer rights and protections than they would have without any contract at all."
In its 2011 ruling ordering reinstatement of eight reporters, the NLRB also found that the paper engaged in illegal surveillance of union activity, gave lower evaluations to employees because of their support for the union, and canceled Starshine Roshell's column for discriminatory reasons. Roshell is now a columnist for The Santa Barbara Independent, along with this writer, a News-Press columnist until 2007.
In commenting after last year's ruling, News-Press attorney Michael Zinser said he expected the paper to be vindicated at the federal court level due to "improper motivation" by the fired journalists who, he said, "wanted to take over the content of the paper."
Oral arguments will begin November 8 in federal court on the News-Press appeal from the 2011 ruling on the eight reporters, according to Gottlieb. A decision is expected late next year or early 2014, he told The Independent.