Food & Drink
15 Minutes with Julienne's Justin West
Chef Sounds off on Chicken Liver Mousse, His Go-To Meal for Guests, and Bacon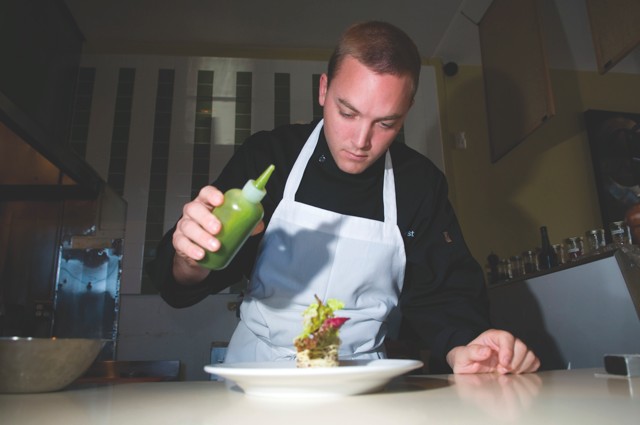 This is the first of a new series, in which we attempt to get to know a chef in 15 minutes, asking the same 10 questions. Justin West, head chef and owner at Julienne (and new dad), was game to be our guinea pig and met me on a Wednesday morning while prepping for lunch service — a fairly recent addition to the restaurant's offerings. In fact, they launched lunch on Tuesday, July 17, and, Justin said of his wife, whom you'll see running the front of the house, "Emma's water broke on Wednesday … Go big!"
So. Just how much can you learn about a chef in 15 minutes?
If your decision to become a chef could be traced to one food memory, what would it be? Chicken liver mousse. My dad was a chef and used to make that for me all the time; that's why we always have it on the menu. I joke, but I think "pâté" was one of my first 10 words. It just makes me smile, brings me back to being 2 years old.
You have a guest at home you want to impress. What's the go-to meal? Lately I've been getting a big fat rib eye, one of those fancy, dry-aged steaks, and cook it super slow over mesquite. Along with whatever vegetables are in the garden. That or a grilled whole fish. Something big. I like to eat big. Except for when I'm here. After cooking and tasting and smelling food for 12 hours, it's just like … No.
If someone could only eat here once, what should they order? The charcuterie plate. It's always got the fresh sausage, chicken liver mousse, house-made mustards, house-made pickles. It's a good show, old-school techniques, local ingredients. Good example of what we do here.
What's the best dining experience in Santa Barbara, other than here, of course? Cielito, for as long as Ramon [Velazquez] continues to be there. The food's great, and the kitchen's fast. And now that the bar program is back to regular ice — they started out importing it from someplace in L.A., and it would come in a Collins glass in this one long cylindrical piece, and, I thought, that's not gonna last. The next time I went, they were back to regular cocktail ice … [Cielito] or Arigato.
What's the most outrageous thing that's gone down at Julienne? We had this huge group of Ukrainians — they were referred by their concierge — like 14 of them, big shots, the women were wearing giant fur coats, and we set them up along this wall in one big long table, right where we're sitting now, and they were doing lines off the table in the middle of service. But, you know, they were eating and drinking …
They ate? Yeah! They did the five-course tasting menu. And it was like, well, what are you gonna do? This isn't church; it's a restaurant.
Okay, speed round. You killed your sommelier and are on death row. What's your last meal? In-N-Out Burger. A double-double animal style, animal-style fries, vanilla shake.
What's the one ingredient you can't live without? Lemons.
What's a better food city: New York or New Orleans? Portland.
Fill in the blank: People might be surprised to see me eating _____. Tofu.
And finally. Bacon: awesome or overrated? Awesome. Bacon could never be overrated.
4·1·1
Julienne, 138 East Canon Perdido Street, (805) 845-6488, restaurantjulienne.com.