Film & TV
The Oranges
Hugh Laurie, Oliver Platt, and Catherine Keener star in a film written and directed by Ian Helfer and Jay Reiss and directed by Julian Farino.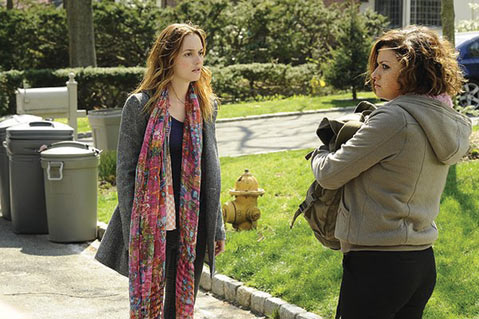 In the initially promising, occasionally enjoyable, and ultimately snooze-worthy dramedy The Oranges, the setting is the all-American turf of the 'burbs and the things that can and do go bump in them. Said bumps in the neat, clean fabric of suburban life, in West Orange, New Jersey, include the usual modest-case scenarios, such as a twentysomething daughter stalled in her dream of moving to N.Y.C. or the usual big and little chills between old married couples. But a nefarious May-December romance in the neighborhood counts as a bump morphed into a bombshell.
Here, at story's center, we have a tight-knit pair of families on the same street, drifting along in a comfortable routine until a micro Armageddon befalls them, involving a restless and lovely young woman (Leighton Meester) and a willing midlife-crisis victim nuzzle in the mancave. Party over. Party begun. The cast does a suitable, fine job with the material, Hugh Laurie and Catherine Keener on one side of the street and Allison Janney and Oliver Platt on the other. Young Alia Shawkat serves the voice-of-reason role as the de facto narrator of the story, but things go amiss and alack around midpoint in the film.
Periodically enough to keep us in our seats, our interest is piqued and re-piqued, as in a scene of shocking discovery in a motel parking lot, involving the interaction of gag reflex and a numbered ice bucket. Better yet, the idea of suburban ideals upended reaches its apex when a yuletide-loving mother (Keener, clearly one of the star attractions) channels her post–cheatin' mate rage by steering her station wagon through a static posse of Christmastime lawn ornaments. The scene feels subversive and liberating, a suburb-bashing explosion of anti-American sentiment we've gotta love.
For its charms, though, The Oranges keeps getting smaller and smaller as it goes, in terms of our interest and the very dimension of its vision, until it feels like one of those small-screen ventures imposed on the big screen. We feel as if we should be able to pause the thing and let the dog out. That's not a good sign at the movies.