Visual Arts
First Person: Seeing America Comes to UCSB
Bill Pullman and Lily Knight Star in This Unique Live Performance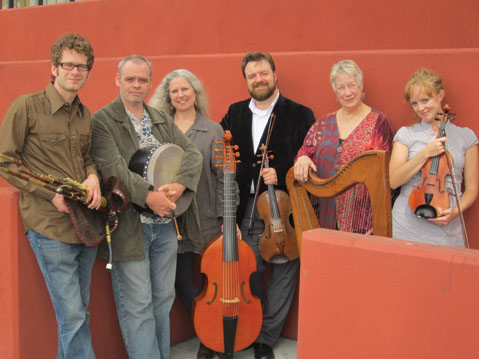 "Everybody has to be thrilled," said Carolyn Surrick, viola da gamba player and founding member of Ensemble Galilei. "We're absurdly democratic that way." Though she's describing the process of research, reading, and rehearsal that her group used to create First Person: Seeing America, she might as well have been articulating the romantic and optimistic view of America that's expressed in the show. The multimedia concert/theater piece that will be at UCSB's Campbell Hall this week pairs projected images from the photography collection of the Metropolitan Museum of Art with a soundtrack of live dramatic readings and traditional Celtic, Scottish, and American music. Here, big-shot actors Bill Pullman and Lily Knight read from the likes of Jim Harrison, Frederick Douglass, James Agee, and Calamity Jane while the photographs of Walker Evans, Edward Curtis, Ansel Adams, and Helen Levitt burst onto the screen overhead. Meanwhile, Surrick and her fellow musicians weave a tapestry of sound around them, blending with and heightening their messages. In this musical project, the players are also first movers, equal participants in a team that evaluates and chooses exactly what will be seen and heard in the performance.
Ensemble Galilei — made up of Hanneke Cassel, fiddle; Ryan McKasson, fiddle and viola; Kathryn Montoya, recorders, whistle, and oboe; Jackie Moran, percussion; Sue Richards, Celtic harp; and Surrick, viola da gamba — began working on these unique multimedia events with a show that featured photographs from space taken by the Hubble telescope, and it moved from there to images of terrestrial exploration and adventure provided by the photographers at National Geographic. But Surrick assures me that this project represents the most mature phase of the group yet. "Even though the sequencing of this show was a challenge," she said, "we worked on it until we got the readings in the right order and until every piece of music was just intensely perfect. There isn't a second in the show that we don't love." Audiences around the country have felt the same way, and the crowd at Campbell is likely to, as well.
UCSB's Arts & Lectures presents First Person: Seeing America at UCSB's Campbell Hall on Wednesday, October 10, at 8 p.m. Call 893-3535 or visit artsandlectures.sa.ucsb.edu for info.