Dance
Akram Khan Company at the Granada Theatre
London-based Company Performed "Vertical Road"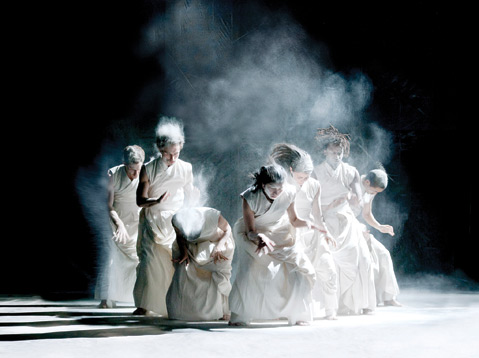 Philosophers, holy men, poets, and mystics talk about the veil: a screen separating life from death — or something beyond life, anyway. In Akram Khan's "Vertical Road," it's not just death we're dealing with, but the passage from one state of being to the next.
From the start, "Vertical Road" takes on the proportions of an epic saga. First, there's the sound of water dripping. Upstage, a billowing, semi-transparent sheet drops from ceiling to floor. A single figure appears gauzily behind it. He begins to move, first tentatively, then faster and faster, scribbling some inscrutable yet urgent message, drawing wide circles in the fabric that send out rippling waves. Then blackout.
When the lights come up, our single figure has moved beyond the veil and crouches alone downstage. Nearby, a cluster of dancers stand motionless, heads bowed. They're dressed all in white: tunics, and gathered skirts over wide-legged pants. When at last they surge to life, twisting, flinging, and reaching; puffs of dust emanate from the folds of their garments.
For the next 70 minutes, these eight dancers cycle through phases of motion and stillness. Their movements suggest urgency and striving, yet there's often an outlier — someone who stands aside from the chaos and watches. Composer Nitin Sawney, longtime Khan collaborator, has woven a spellbinding soundscape of wind, water, and deep rhythmic pulses that seem to drive the dancers. Khan also worked with dramaturge Ruth Little, and at times we sense a wordless narrative: the original figure returns again and again to a stack of wooden tablets, consulting and absorbing them before returning to the fray. The suggestion of a sacred text is clear; there's an implication that a choice must be made between the spiritual path and the worldly one. Yet somewhere along the way this central idea begins to diffract and falter; there are suggestions of shamanic rituals, sexual encounters, and ecstatic states, with various dancers taking on the role of witness.
There's a lot of whirling in this work, a lot of reaching and grasping, and a lot of unison. Consequently, the moments of contrast are breathtaking, as when one woman breaks from the group to deliver a languid, swaying solo, her limbs unfurling like ribbons. In another riveting scene, one man manipulates another without so much as touching him; a wave of his hand and the puppet spirals dizzily to the floor like the peel falling from an apple.
In the end, Khan brings it full circle. The lone figure from the opening scene stands alone, his back to the audience, drawing circles in the air. Lit from above by a column of light, he tries unsuccessfully to fly. Finally, he reaches for the heavens, and the veil drops away.