Briefs
The Long Road to Election Day
Capps and Maldonado Campaigns Like Their Chances for Congress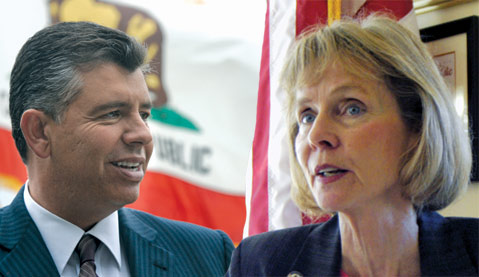 It's been more than 20 months since former Lt. Gov. Abel Maldonado announced his intention to run for Congress. Representative Lois Capps had celebrated her most recent reelection victory just three months earlier.
Neither knew at that point which district they'd be running in, as 2011's redistricting process wasn't yet complete. But Maldonado knew that the registration numbers would be a lot different than the district Capps had represented, where Democrats held a 20-plus-percentage-point advantage.
When the new boundary lines were finally determined, the new district ended up looking almost exactly like the district Capps had represented up until 2002. And gone was the huge Dem advantage in registration.
Now, Dems hold about a 2.5-percent advantage. But the registered Dems and registered Republicans won't be determining the outcome of today's election — it will be the 20-plus percentage of the population who are decline-to-state voters.
Both campaigns released their closing statements in advertisements blasted on Central Coast television sets throughout the week and weekend. "The campaigns are almost over," Maldonado said in his commercial, looking into the camera. "Now it's time for you to decide — stay on the current path or go in a new direction. Lois Capps has been in Washington for 14 years. Fourteen years of irresponsible spending, higher taxes, mountains of new debt, and voting with Nancy Pelosi 96 percent of the time. I'm Abel Maldonado. It's time for a new direction. I approve this message, and with your vote, I'll work hard to create new jobs and fight for a better future for all of us."
The commercial for Capps tried to tie her to Obama and Maldonado to Romney. "Our choice in this election is clear — President Obama and Lois Capps, or Romney and Maldonado," a voiceover said in her commercial. "Equally clear are the challenges before us. That's why Lois Capps will work with President Obama to build a stronger economy and grow the middle class. Above all, Lois Capps always does what's best for the Central Coast, because her only agenda is you. Lois Capps for Congress — a lifetime of service, built on trust."
While the ads were running on TV, both candidates spent the weekend running up and down the district to get out the vote. Saturday, Capps campaigned with Vicki Kennedy, the widow of Sen. Ted Kennedy. Sunday, she was joined by Rep. Xavier Becerra and Rep. Sam Farr at events in San Luis Obispo, Santa Maria, and Santa Barbara.
Maldonado, meanwhile, spent the majority of his weekend in the northern parts of the district — Santa Maria, Templeton, Paso Robles, and San Luis Obispo on Saturday, and San Luis Obispo and Santa Maria on Sunday. He also touted endorsements from Michael Reagan, son of former president Ronald Reagan, and former Florida gov. Jeb Bush.
Now, finally, we're here, with Election Day upon us. No more debates, no more mailers, no more television and radio commercials, no more figuring out which candidate has or has not paid their taxes.
The Capps campaign sought to define Maldonado early in the race. From the outset, they made his family farm — which is central to Maldonado's political message — an issue. From violations on the farm (including a few since he decided to run for Congress), to an ongoing dispute with the IRS over what could be up to $4.2 million in tax deductions, Maldonado has been plagued with bad news related to his business. The Los Angeles Times reported that the IRS had challenged farm deductions that didn't appear to benefit the business, including the cost of horses and memberships at a golf club. Parties at the Maldonado house and bathroom-tile and outdoor-deck work were also questioned as improper business deductions.
And while Maldonado has said he wouldn't be beholden to party bosses, and wasn't going to Washington to vote the party line, the Capps campaign has pushed to tie Maldonado to the far right, pointing to several fundraisers and tweets and Maldonado's voting patterns in Sacramento. Maldonado has said his biggest priority is getting the economy moving again and putting people back to work.
Maldonado, meanwhile, attacked Capps's record, noting she has voted with Democratic leader Nancy Pelosi 96 percent of the time. He attacked Capps on Obamacare, arguing she was cutting Medicare with her support of the Affordable Healthcare Act, and tried to connect her to failures like Solyndra, the nation's deficit, and unemployment. And he went after her for her own tax issues — from 2001-2005, she failed to report to the IRS $41,820 in rental income she received. She filed an amended tax return earlier this year.
Both candidates were the targets of letters from party chairs to investigative bodies within the last week. First, Maldonado was the subject of a letter from the California Democratic Party, asking the FPPC to "immediately commence an enforcement action" against Maldonado in connection with reports that Maldonado's family business deducted from its taxes a party in his honor the same day as a political fundraiser. Friday afternoon, the California Republican Party asked the Office of Congressional Ethics to look into whether Capps violated House rules or federal law when she rented a studio apartment to a staffer, and failed to disclose the income for several years.
Turnout, as in races across the country, will make the difference Tuesday. The Capps campaign — even in races where the outcome was not in doubt — has a strong history of a grassroots efforts. "We've learned it and kept it in place even though we haven't had to invest too much in it," Capps said of her grassroots campaign. "The blueprint was there."
Even so, both sides are optimistic as voters hit the polls this morning. "It's going to be close," Maldonado spokesman Kurt Bardella said Monday. "Momentum is important. The sense around this campaign is we have a lot of momentum going into Election Day." Bardella said each precinct throughout the district has had doors knocked on twice over the course of the campaign.
"I'm upbeat," Capps said on her way out of Isla Vista Monday night after rallying voters there. "Cautiously optimistic is the phrase of the hour."
As of Tuesday morning, 71,979 vote-by-mail ballots had been returned in Santa Barbara County. County elections chief Joseph E. Holland estimated as many as 20,000 vote-by-mail ballots could be returned to polling places today. In San Luis Obispo, 60,036 ballots had been returned.
More than $3.7 million in outside money from Super PACs and the like has been poured into the race, signifying the feeling from Republicans that the 24th District race is a chance to pick up a seat and expand their lead in the House. Indeed, the vast majority of the outside money — which came in addition to the more than $5 million total both candidates raised — was in support of Maldonado, or in opposition of Capps. While Democratic groups did provide some funding, they largely sat on the sidelines this election, suggesting their private polling showed something a little different than the polling that was made public.
Limited information from only two polls was made public since the primary election, both of them from the Maldonado campaign. The most recent polling info — released in a memo in the beginning of October — showed Maldonado with a one-point lead.
Last week, the Rothenberg Report moved the race from "leans Democrat" to "toss-up/tilt Democrat." Their analysis says, "Republican polls have had this as a dead heat between Rep. Lois Capps (D) and former Lt. Gov. Abel Maldonado (R) for some time, but we've remained skeptical. Still, this is a market, unlike Sacramento, where the GOP and their allies can still buy time, and they have been outspending Capps by more than two to one in the last couple of weeks. Capps remains a slight favorite, and Maldonado still carries high negatives, but this may be Republicans' best opportunity to knock off a Democratic incumbent in the Golden State."
Both candidates will be out and about today. If you'd like to catch Maldonado, he will be voting at 11 a.m. in Santa Maria, then heading to his Orcutt Victory Headquarters at 1103 East Clark Street. From there, he will head down to Santa Barbara, stopping by his office at 3412 State Street. His election-night party begins at 6 p.m. in the Turf Club Ballroom of the Santa Ynez Valley Marriott in Buellton.
Capps voted this morning, and is on her way to Paso Robles, where she will stop by her Paso Robles campaign office (829 10th St.) at 11:30 a.m. She will be at the San Luis Obispo campaign office (1404 Broad St.) at 1:15 p.m., the Grover Beach office (278 W. Grand St.) at 2 p.m., the Santa Maria campaign office (327 Plaza Dr.) at 2:50 p.m., the Santa Barbara office at 1019 Chapala Street at 4:45 p.m., and the Isla Vista campaign office at 5:30 p.m. Her election-night party — along with Das Williams and Hannah-Beth Jackson — will be at El Paseo in downtown Santa Barbara.
If you still have your vote-by-mail ballot, election officials recommend dropping it off at any polling place or any county elections office. If you've lost your vote-by-mail ballot, you can go to any polling place and vote using a provisional ballot. Polls are open from 7 a.m.-8 p.m. To see where your polling location is, visit here: http://www.sbcvote.com/sampleballotandpollplacelookup/pollplac.htm.
To see if your vote-by-mail ballot has been received, visit here: http://sbcvote.com/ElectionDataLookup/BallotStatusLookup.aspx.