Briefs
Wildfire at Top of Cold Springs Trail
[UPDATE]: All Evacuation Orders Have Been Cancelled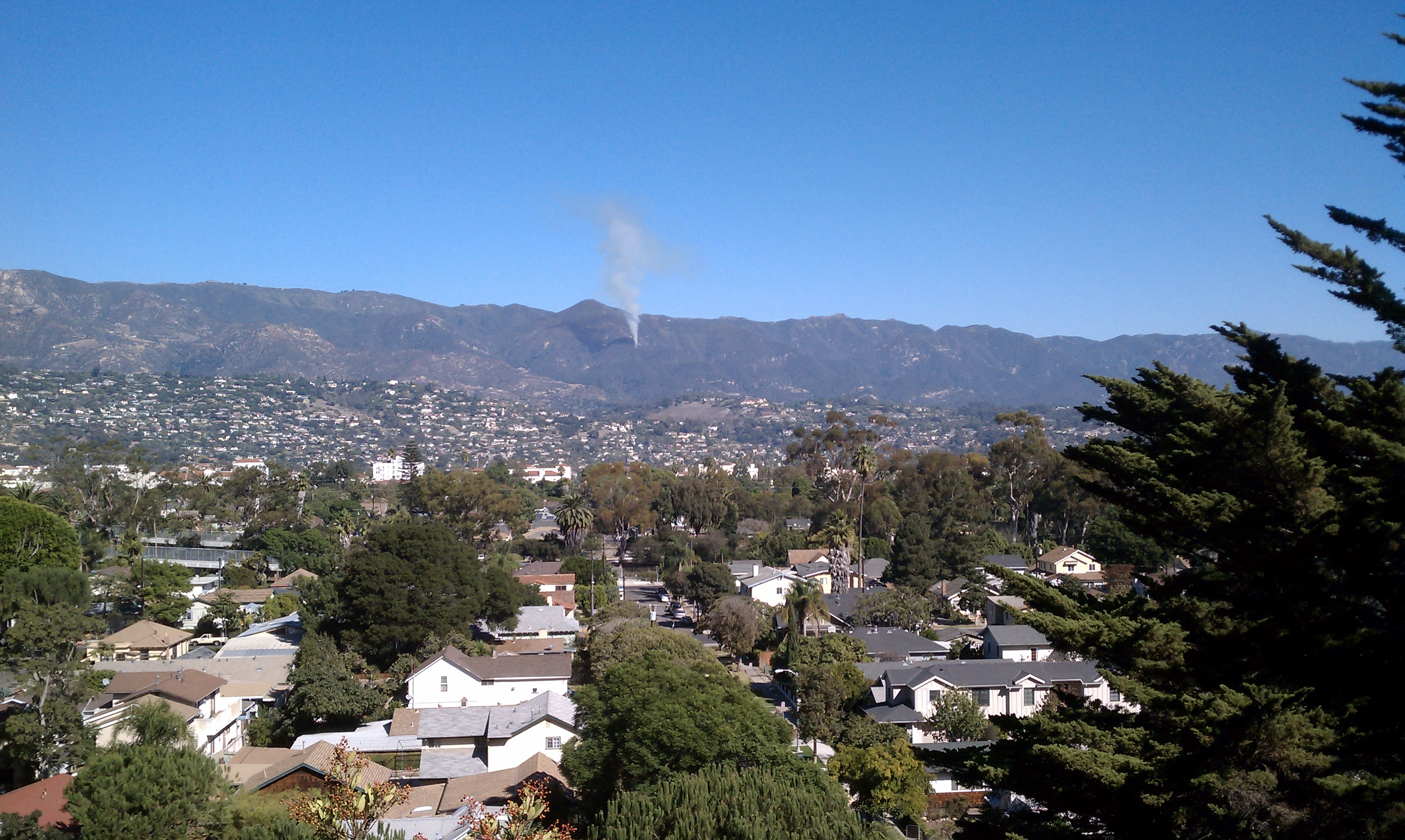 A wildfire ignited at around noon Tuesday above the east fork of Cold Springs Trail below Montecito Peak. It's currently burning around five acres of vegetation near power lines, and scanner communications indicate the blaze is headed up the mountain. Multiple engine crews are responding to the remote location, and air support units have been called.
Three hikers are stuck on the the upper portions of the trail above the fire, but are making their way to Camino Cielo for evacuation, authorities report.
[UPDATE, 12:28 p.m.]: Montecito Fire just issued mandatory evacuation orders for homes north of Mountain Drive, east of Cold Springs Road, west of San Ysidro Road, including San Ysidro Lane, north of East Mountain Drive, east of Hot Springs Lane, west of Park Lane West.
[UPDATE, 12:48 p.m.]: Ray Ford, currently driving up Hot Springs Lane, said there is little to no wind in the area. He noted the fire appears to be located about a half-mile away from power lines.
Captain David Sadecki with County Fire said the fire is burning in heavy vegetation in a very inaccessible part of the mountains. He said its movement appears to be slope-driven.
Photographer Paul Wellman said a fixed wing aircraft has arrived on the scene to accompany three helicopters making water drops.
[UPDATE, 1:08 p.m.]: The CHP reported at 12:48 p.m. that an unidentified man has been detained on suspicion of starting the fire. He was described as a 6-foot-tall Hispanic male wearing a sleeveless shirt and walking his dog. Multiple witnesses "have [identified him] as starting this fire," an online CHP report reads. No other information on the detainment is available, but officials on-scene have asked for a detective and fire investigator.
The size of the fire has been revised to two acres, down from the original report of five. There are two helicopters making drops and hand crews working the area.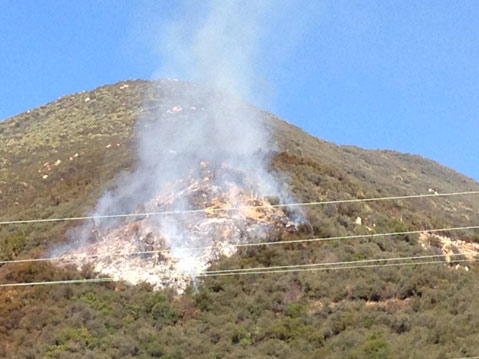 [UPDATE, 1:15 p.m.]: Ray Ford just called in from the saddle on the power line road, just below the fire, and had good news to report.
Although the temperature feels about 90 degrees and there are still big flames visible, there is "virtually no wind," said Ford, and the fire has stayed put at the initial estimate, which ranges from two to five acres. He has witnessed a handful of helicopter drops as well as two large drops from big fixed wing airplanes, and said that another big chopper is on the way.
"Everything is looking pretty good right now," said Ford. "It's virtually just steaming around the edges." A Hot Shots team is already entering the burn zone to set up a perimeter, said Ford, who has covered wildfires in Santa Barbara since the 1970s. "My guess is that, unless we get wind, which I don't think we will, it's not gonna last long," said Ford.
[UPDATE, 2:12 p.m.]: Though there's been no official word from county or fire officials in the last 45 minutes or so, the blaze in the mountains above Montecito appears all but contained. The smoke has almost completely dissipated and Independent staffers nearby say emergency teams have slowed their tempo considerably. Hand crews remain on the scene and evacuation orders are still in effect.
[UPDATE, 2:50 p.m.]: All evacuation orders have been cancelled. Hand crews remain on the scene in mop-up mode.