Visual Arts
The Artful Recluse: Painting, Poetry, and Politics in 17th-Century China
SBMA Shows Nearly Sixty Works from Private and Museum Collections in China and America

There's a feeling of bright anticipation at the entrance to The Artful Recluse, the exhibit currently on display at the Santa Barbara Museum of Art. Here, Elizabeth Atkins Curator of Asian Art Susan Tai and a team of distinguished scholars and lenders have assembled one of the most ambitious shows of Chinese art ever mounted in this country. But there's also an enigmatic undercurrent of another sort of excitement mixed in, and it comes from the show's fascinating subject, which is the mysterious and idiosyncratic Chinese tradition of hiding out — reclusion as a principled (and highly stylized) withdrawal from public life.
The title of the show refers to a 17th-century phenomenon that occurred when the Manchu invasion of 1644 ended the Ming Dynasty. That's when many Ming officials embraced a highly cultivated version of "the simple life," and traded the high government positions they had for such activities as wandering in the wilderness, writing poetry, and painting. These privileged, sophisticated, and self-styled hermits were the victims of partisan politics within the original form of big government. Men like Xiang Shengmo, Bada Shanren, and Shitao — all brilliantly represented in The Artful Recluse — belonged to a tight-knit but disenfranchised cultural elite in the 17th century. Together, they managed to turn playing hard-to-get into a power move that redefined the relations of art and status to political office in a country where all three were taken very seriously. Moreover, they did so through creating some of the world's most enthralling and genre-defying works of art. In short, we have a lot to learn from the heroes of The Artful Recluse.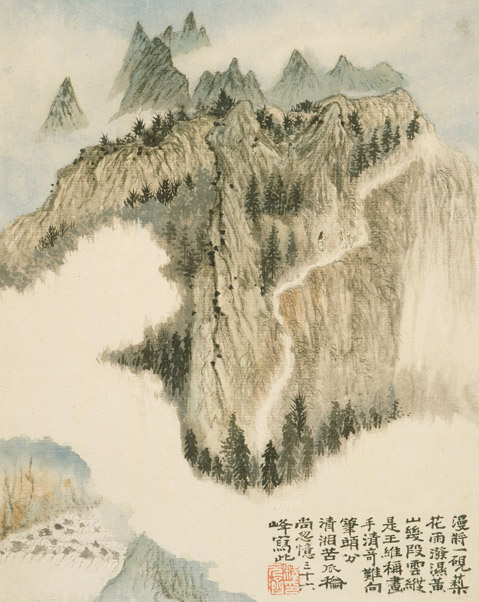 "The idea of reclusion was not new in the 17th century," said Tai as we entered the gorgeously designed, painstakingly well-documented exhibit. "The image of the wise man living in the wilderness is an ancient one in China, but what is different about the work of these 17th-century scholar officials is that they were just as interested in reclusion as a state of mind or a political stance as they were in the actual withdrawal." The artful recluse, then, is a way of life pursued by those who are dispossessed politically, but still educated and capable of great things — a kind of elite counterculture. "What remains constant throughout," Tai continued, gesturing toward a giant wall scroll containing vivid images of a mountainous landscape covered in tall trees and wreathed in fog, "is the ultimate context, which is natural beauty."
The journey through this show begins at a long vitrine containing Xiang Shengmo's hand scroll "Invitation to Reclusion" (1626). As one follows the right-to-left progression of its landscape, an entire world opens up, one that is at once barely populated and saturated with human presence and feeling. As one proceeds to discover masterworks like the lotuses and fish of Bada Shanren, that first moment of buzzing anticipation at the show's entrance builds into the understanding that within these mild-mannered-seeming monochromes, there lurks an intellectual blockbuster of great depth and resonance. The Artful Recluse tears the curtain aside from a fascinating, masterful, and deeply idiosyncratic set of major art works, which in turn reveal the heart of a complex and meaningful way of life. That the vast majority of these works are embodied in media — the hand scroll, the fan, the vertical scroll, and sets of silk panels — that resist standard Western modes of apprehension is just one aspect of the epic paradigm shift that a close examination can initiate. Embedded in the sparkling dense weave of Chinese dynastic history, the art of The Artful Recluse is extravagantly beautiful, and holds multiple rich implications for the way we live now.
Poetry and painting are inseparable in this truly composite art. Take for example this verse from Shitao:
Who is there who would share with
me the ups and downs of this vast world?
Old and without a thing, I've become
stubborn and crotchety.
I didn't realize my inkstone had become

so overgrown with weeds. 
In front of guests I tear up my poems
written while drunk.
An artist of shockingly grand scope and ambition (see his incredible 12-panel series called "Plants of Virtue and Rocks By Water [Sketching Bamboo]" in the exhibition's final room), Shitao plays along within the self-deprecating idiom of the reclusive pattern. There's a paradox at the heart of the cultural phenomenon this show sets out to represent: Why would a real recluse expend so much time and energy in self-expression? Yet rather than seeing this seeming contradiction as a stumbling block, artists like Shitao and Bada Shanren saw it as an opportunity, a way of bringing the fruits of personal reflection and the diligent observation of nature into dialogue with the more obvious statements of policy, power, and preferment. "Who is there who would share with me the ups and downs of this vast world?" sounds like a very different question when you know that it's coming from China's equivalent of Caravaggio, or Monet.
There are so many things to look for that will give pleasure here. Watch out for the lotus, which models the reclusive theme in Bada's work by refusing to emerge fully from the rocks and mud. In this tradition, the role of the landscape is as often as not to provide a properly dignified and aesthetically satisfying place in which to lodge one's feelings of trauma and despair. Yet there's also an antithetical movement away from the pathetic fallacy, toward revelation. The revered master Dong Qichang was known not only for his paintings and poetry, but also for his criticism, in which he established the canon for landscape composition known as "the dragon's spine," a way of looking at the structure of mountains that is said to reveal the chi of nature.
In the museum's cleverly outfitted iPad kiosk, you can use technology to look more closely at the myriad details that enliven such works as Fang Yizhi's "Plum Blossoms and Pine." It's also a great way to dwell on the intricacy of the brushwork and calligraphy. Indeed, the latter constitutes a second level of meaning that at times almost equals the interest of the first, as the various owners of these fans, screens, and scrolls invariably marked them with their own elegant notes and stamps. This dense conversation that's tattooed on the originals concerns their provenance, their relative authenticity in relation to tradition, and the various particular strengths of the artist in hand. Yet throughout, the objects and their calligraphically inclined caretakers maintain a priestly decorum. None of the later accretions seem the least bit overstated or out of place.
Ultimately, this is a show with a powerful message about the vicissitudes that abound within even the most secure of lives. By developing such inordinate degrees of skill and mindfulness, these artists were able to use their work to lodge the huge feelings of frustration and yearning occasioned by trauma and loss in objects as seemingly inconsequential as potted house plants and isolated garden rocks. As one of the artists has it, there is truly such a thing as the "paradise of pots." Get to the Santa Barbara Museum of Art to see it for yourself.
4•1•1
The Artful Recluse: Painting, Poetry, and Politics in 17th-Century China will be on view at the Santa Barbara Museum of Art (1130 State St.) through Sunday, January 20, 2013.