Columns
Have a Little Adventure
Ultimate Fighting with a Rock
Sometimes you need to take a vacation from daily life and look at the world from a new perspective. The Reel Rock Film Tour coming to Isla Vista next week offers just this type of escapist experience.
For several hours, viewers can get an up-close and personal look at rock climbing through the eyes of daredevil enthusiasts. You might find the experience of watching Reel Rock 7 both inspiring and terrifying. The rock climbers attempt amazing, and sometimes insane, feats just because they can. As one climber said, "It's ultimate fighting with a rock."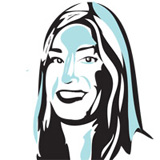 The films will screen Wednesday, November 14, at I.V. Theater from 7:30 to 10 p.m. Presale tickets are $8 for students/$10 for others, and at the door $10 for students/$12 for others. This is the seventh year this film tour has been held, and a good time is guaranteed for both veterans and novices. The event is sponsored by the UCSB Adventure Programs, an official program of the UCSB Athletic Department.
What Are They Thinking? If you are an adventure junkie, a climber, or just a couch/voyeur, these films have been designed for you. Once you take a look at the preview of the Reel Rock Film Tour, you'll see that it's about more than just climbing. Sure, you'll see climbers clambering to incredible heights in breathtaking surrounds, but you'll also hear their thoughts, dreams, and motivations. By delving into the psyche of those who crave extreme experiences, these films provide a means to draw in anyone who wants to understand why these types of sport enthusiasts do what they do. While you are getting an insight into the mind of a climber, you also get an opportunity to see some of the most beautiful places in the world through their eyes. There is footage of Yosemite and more.
In some cases, the tasks the climbers set themselves might seem irrational. For example, one climber decided to scale the three highest peaks in Yosemite, all in one day. You can watch the exhausted man clinging desperately to a rock ledge as he tries to complete this mission. The first question you might ask yourself is, "Why?" Is it the thrill of doing something dangerous, the sense of achievement from doing something remarkable that no one else has done? Maybe it's a reflection of the fact that danger and excitement are not daily parts of a normal American life.
Whatever the reasons for the climbers' love of doing the near-impossible, film viewers are the beneficiaries of their hard work. Without getting cold, injured, or even inconvenienced, viewers can get a taste of the payoff. Even if you may never try to scale Half Dome, you can get a taste of what it might be like, all from the safety of your theater chair.
The films in Reel Rock 7 are from Sender Films and Big UP Productions. If you would like to see the films from the past six years, visit their websites and take a look.