News
Legalizing Sea Otters
U.S. Fish & Wildlife Service Set to End Controversial, Quarter-Century-Old Program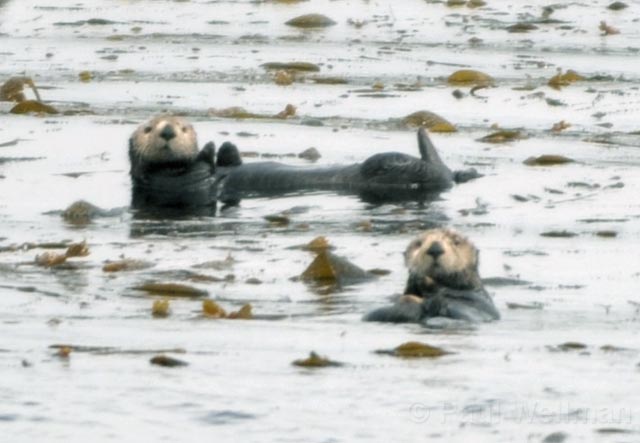 Unless there's a drastic shift of the decision-making winds in Washington, D.C., the quarter-century-old plan to protect sea otters north of Point Conception while mandating that they be moved to San Nicolas Island upon entering the Santa Barbara Channel will come to an end next month.
The move — praised by the threatened species' supporters yet criticized by commercial fishermen who fear the marine mammal's voracious appetite — will officially admit that the U.S. Fish & Wildlife Service's controversial, expensive, and ambitious "Southern Sea Otter Translocation Program" of 1987 was a complete failure, and provide the same federal and state protections for otters wherever they swim. If passed as expected in December, the service's Jane Hedron explained, "It would allow sea otters to reclaim their historic range."
Nearly wiped out by widespread hunting in the 18th and 19th centuries, there were only about 50 southern sea otters remaining off the Big Sur coast by the 1930s, and the species was protected by the Endangered Species Act in 1977. As part of the recovery plan, a compromise between fishermen, the military, and conservationists was hatched in the 1980s: In exchange for taking 140 otters to San Nicolas Island — where they'd hopefully grow into a stable population that would survive should an oil spill or other event wipe out the Central Coast otters — the feds appeased worried abalone and urchin fishermen of Southern California by relocating to San Nic any otters that swam south of Point Conception while also not extending the full provisions of the Endangered Species Act to those otters that crossed the invisible line in the ocean.
The plan did not help the otter. Not only has the San Nic crew dwindled to about 40 individuals, but the Central Coast otter numbers are not increasing as quickly as expected, though the reasons why seem to become more complicated with each study.
By ending the translocation program — which hasn't really been in effect for a decade anyway — the feds (who were pushed into action by a lawsuit from The Otter Project and the Environmental Defense Center) are essentially letting nature take its course while providing the full strength of both state and federal law to protect the species. While fans of the furry creature will celebrate victory with the publishing of the decision next month, shellfishermen won't be so happy, as everyone agrees that competition is on the way. Indeed, with otters expected to creep into Carpinteria and possibly as far as Oxnard within a decade, the federal study admits that "the presence of sea otters will likely reduce the densities of some shellfish species to a level where they are no longer viable for commercial harvesting along this portion of coastline."