Announcement
Celebrating 10 Years at 10th Annual Montecito Bank & Trust Awards Luncheon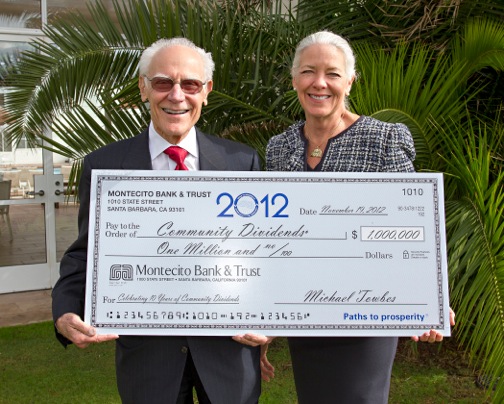 Montecito Bank & Trust reached a major milestone this year, as it celebrated ten years of Community Dividends® Awards, having given a total of $10 million over the ten years to local Santa Barbara and Ventura County non-profit organizations. This year's 10th annual Community Dividends® Awards luncheon honored 180 local nonprofits, and awards totaling $1 million were distributed at this truly special and unique event on Monday, November 19th at the Coral Casino.
"This truly is my favorite event," said Michael Towbes, chairman of Montecito Bank & Trust. "Looking back over the ten years, and the hundreds of nonprofits we have been honored to support, I am always reminded that it's because of them – and the important work they do – that I was inspired to begin the Community Dividends® Awards. Our goal, through the Community Dividends, as well as our overall philosophy of giving back to the community, is to make the communities we serve better places to live and work."
During a time of serious economic uncertainty when many local businesses have significantly reduced their corporate philanthropy, Montecito Bank & Trust is maintaining its tradition of community giving, and demonstrating by example their commitment to support the critical work of hundreds of local Santa Barbara and Ventura County nonprofits located from Solvang to Westlake Village.
The Community Dividends® Awards were created by Mr. Towbes in 2003. The program focuses primarily on supporting organizations that serve low and moderate-income individuals and families in Santa Barbara and Ventura Counties. The program also awards dividends to organizations with missions that serve the arts, youth and education, social welfare, and medical and health services sectors.
Montecito Bank & Trust has an unfailing record of corporate philanthropy in the local communities it serves. In addition to its Community Dividends® Awards, the bank, with nine branch offices from Solvang to Westlake Village, has numerous community programs in which employees volunteer their time, talent, and expertise. Examples over the past year alone include the bank's award-winning financial literacy program "Teach Children to Save Day", Employee Volunteer Events like the Teddy Bear Foundation Build-a-Bike, Summit For Danny, Music Academy of the West's "Carnival of Animals", and the United Way Day of Caring to name a few, in addition to a 19 year tradition of annual Anniversary Grants, as well as presenting the Santa Barbara Triathlon for the past three years.
"Corporate philanthropy really begins with a personal commitment from the boss," said Janet Garufis, the bank's President and Chief Executive Officer. "Equally important is engaging your entire team and encouraging volunteerism. Mr. Towbes has instilled in all of us at the bank the desire to support our community and make it a better place. Through Montecito Bank & Trust's extensive corporate philanthropy outreach, we help our communities grow and prosper – it's the essence of who we are. It is also the loyalty and commitment of our customers which make it possible for us to continue to have such an impact. It is a privilege to support so many nonprofits in our service area, and an honor to show our appreciation for the important contributions they make to the vitality of our communities."
Montecito Bank & Trust, an S Corporation, is a locally owned community bank founded in 1975 and known for its ongoing support of the community through unique giving programs like Community Dividends® and Anniversary Grants. Proudly celebrating its 37th anniversary, the bank has branch offices in Santa Barbara, Montecito, Goleta, Carpinteria, Solvang, Ventura and Westlake Village. It offers a variety of competitive deposit and lending solutions for businesses and consumers, including consumer loans, business loans and lines of credit, equipment finance, commercial real estate finance, SBA loans, credit cards, merchant services, online banking and cash management. Its Wealth Management Division, located in Montecito, Solvang and Ventura, provides full investment management as well as trust services for all of the bank's branch office markets.
2012 Community Dividends® Recipient Organizations
Adelante Charter School
Adventures in Caring Foundation
AHA! (Academy of Healing Arts for Teens)
Alano Club of Santa Barbara, Inc.
Alliance for the Arts
Alzheimers Association, California Central Coast Chapter
American Cancer Society
American Heart Association Central Coast Division
Angels Foster Care of Santa Barbara
Anti-Defamation League
Arthritis Foundation
Big Brothers Big Sisters of Ventura County
Bishop Garcia Diego High School
Boys & Girls Club of Moorpark
Boys & Girls Clubs of Greater Conejo Valley
Boys & Girls Clubs of Ventura
Boys and Girls Club of Santa Barbara
Breast Cancer Resource Center of Santa Barbara
California Lutheran University
California State University Channel Islands Foundation
Cancer Center of Santa Barbara
CAREGIVERS Volunteers Assisting the Elderly
Carpinteria Beautiful
Carpinteria Education Foundation, Inc.
Casa Esperanza Homeless Center
Casa Pacifica Centers for Children and Families
Casa Serena, Inc.
Catholic Charities
Center Stage Theatre
Child Abuse Listening Mediation, Inc.
Children's Museum of Santa Barbara
Coastal Housing Coalition
Community Arts Music Association of Santa Barbara, Inc.
Community Conscience / Under One Roof
Community Counseling and Education Center
Community Memorial Health System
Conejo Valley Senior Concerns, Inc.
Congregation B'nai B'rith
Cornelia Moore Dental Foundation
Cornerstone House of Santa Barbara
Cottage Rehabilitation Hospital Foundation
Council on Alcoholism & Drug Abuse
Court Appointed Special Advocates of Santa Barbara County
Crane Country Day School
Cupcakes for Cancer
Direct Relief International
Doctors Without Walls Santa Barbara Street Medicine
Domestic Violence Solutions for Santa Barbara County
Dos Pueblos Engineering Academy Foundation
Dream Foundation
Easy Lift Transportation, Inc.
El Concilio Family Services
Elings Park Foundation
Elverhoj Museum of History & Art
Ensemble Theater Company of Santa Barbara
Family Service Agency of Santa Barbara
Fielding Graduate University
FOOD Share
Foodbank of Santa Barbara County
Foundation for Santa Barbara High School
Friends of the Library of the Santa Ynez Valley, Inc.
Friendship Adult Day Care Center, Inc.
Friendship Manor
Ganna Walska Lotusland Foundation
Garden Court, Inc.
Gay & Lesbian Business Association
Girls Incorporated of Carpinteria
Girls Incorporated of Greater Santa Barbara
Goleta Valley Cottage Hospital Foundation
Goleta Valley Historical Society
Goleta Valley Senior Center
Habitat for Humanity of Southern Santa Barbara County
Habitat for Humanity of Ventura County
HELP of Carpinteria
Hospice of Santa Barbara, Inc.
Hospice of the Conejo
Housing Opportunities Made Easier
Housing Trust Fund of Santa Barbara County, Inc.
Isla Vista Youth Projects, Inc.
Jewish Federation of Greater Santa Barbara
Just Communities Central Coast
Kids Helping Kids
La Casa de Maria Retreat & Conference Center
Laguna Blanca School
Laguna Cottages for Seniors
Legal Aid Foundation of Santa Barbara County
Life Network, Inc.
Livingston Memorial Visiting Nurse Association
Lobero Theatre Foundation
Manna Conejo Valley Food Bank
Many Mansions
Marjorie Luke Theatre
Mental Health Association in Santa Barbara County
Museum of Ventura County
Music Academy of the West
NAWBO-SB Foundation
New Beginnings Counseling Center
Notes for Notes
Old Spanish Days in Santa Barbara, Inc.
Opera Santa Barbara
Pacific Pride Foundation, Inc.
Page Youth Center
Parks and Recreation Community Foundation
PathPoint
Peoples' Self-Help Housing Corporation
Planned Parenthood of Santa Barbara, Ventura and San Luis Obispo Counties, Inc.
Project Understanding
San Marcos Parent Child Workshop
Sansum Clinic
Sansum Diabetes Research Institute
Santa Barbara Botanic Garden, Inc.
Santa Barbara Bowl Foundation
Santa Barbara Center for the Performing Arts, Inc.
Santa Barbara Chamber Orchestra
Santa Barbara Channelkeeper
Santa Barbara Community Housing Corporation
Santa Barbara Cottage Hospital Foundation
Santa Barbara Dance Alliance
Santa Barbara Education Foundation
Santa Barbara Family Care Center
Santa Barbara Foundation
Santa Barbara Historical Museum
Santa Barbara International Film Festival
Santa Barbara Maritime Museum
Santa Barbara Meals on Wheels, Inc.
Santa Barbara Middle School
Santa Barbara Museum of Art
Santa Barbara Museum of Natural History
Santa Barbara Neighborhood Clinics
Santa Barbara Partners in Education
Santa Barbara Police Activities League
Santa Barbara Rape Crisis Center
Santa Barbara Rescue Mission
Santa Barbara Soccer Club
Santa Barbara Symphony
Santa Barbara Trust for Historic Preservation
Santa Barbara Village
Santa Barbara Zoological Foundation
Santa Ynez Valley Cottage Hospital Foundation
Santa Ynez Valley People Helping People, Inc.
Sarah House
Scholarship Foundation of Santa Barbara
Solvang Friendship House
Solvang Lutheran Home, Inc.
Solvang Senior Center
Special Olympics Santa Barbara
St. John's Healthcare Foundation
St. Vincent's
State Street Ballet
Storyteller Children's Center
Surgical Eye Expeditions (SEE) International
Teddy Bear Cancer Foundation
The Foundation for Girsh Park
The Foundation for Santa Barbara City College
The Little Cottage
The Valley Foundation
Tradart Foundation
Transition House
Triad Properties
Turning Point Foundation
UCSB Arts & Lectures
United Boys & Girls Club of Goleta
United Boys & Girls Club of Santa Barbara West Clubhouse
United Boys & Girls Clubs of Santa Barbara County
United Boys and Girls Club of Carpinteria
United Way of Santa Barbara County
United Way of Ventura County
Unity Shoppe, Inc.
Valley Haven, Inc.
Ventura County Community Foundation
Ventura County Housing Trust Fund
Ventura County Medical Resource Foundation
Ventura Music Festival
Visiting Nurse & Hospice Care of Santa Barbara
Westmont College
Wilderness Youth Project
Wildling Art Museum
Women's Economic Ventures
YMCA Youth and Family Services: Noah's Anchorage Youth Crisis Shelter
YMCA: Stuart C. Gildred Family Santa Ynez