Sports
College Football Predictions
Superfan Maxine Clancy Gives Her Take on Notre Dame, Stanford, and Other Bowl-Bound Teams
To get the scoop on some upcoming bowl games, I paid a visit to my old friend Maxine Clancy. She is a sociable resident of the Valle Verde Retirement Community, but on Saturdays in the fall, she sits alone in her apartment. "The blinds are closed so they know I'm watching football," she said. "They think I'm crazy."
Clancy is no less crazy than any sentient being who lived 55 years in Columbus, home of the Ohio State Buckeyes. It was bittersweet for her to follow the Buckeyes this season. They went 12-0 in their first year under the direction of über-coach Urban Meyer, but they won't be able to play in a bowl game because of a scandal under previous coach Jim Tressel. "Some players sold their own memorabilia in exchange for tattoos, and the coach knew about it but didn't say so," Clancy said, shaking her head. As far as she was concerned, the tattoos were punishment enough.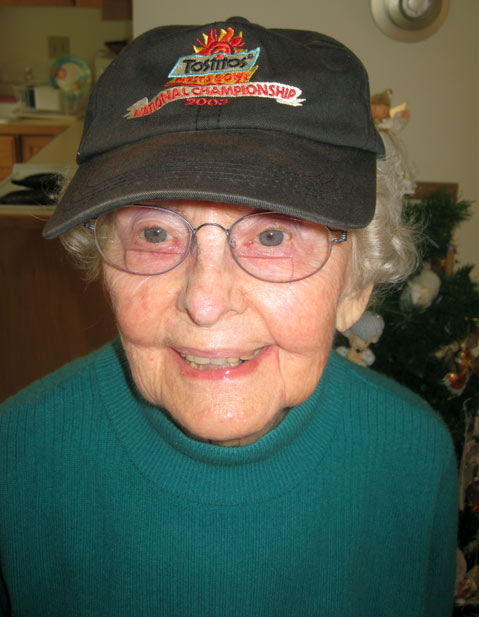 But what about that other 12-0 team, Notre Dame? Clancy would surely have some fighting words to say about the Irish, who will be playing for the national championship against Alabama. "I'm going for Alabama," she said. "It's because of Tom [Clancy, her late husband, not the author]. He graduated from Alabama in engineering. Bear Bryant was coaching there."
Clancy also has connections to Wisconsin, which will be playing Stanford in the Rose Bowl. Her daughter and son-in-law, Sherry and Craig Madsen, are both Badgers. Wisconsin won the bowl berth by running up 70 points on Nebraska. "Nebraska was so befuddled," she said. "Wisconsin was carrying the ball, TD, TD, TD …." But she also knows the Badgers have lost five games. "Stanford will probably win," she decided.
Clancy confessed she has not concentrated on the games as intensely as usual this year. She is on the mend from breaking her right femur in August. "It's the first bone I've ever broken," she said. She was rushing across her living room and was tripped up by a footstool. It took her 94 years to get the message that she shouldn't be running the hurdles any longer.
FALLEN GIANTS: Santa Barbara has lost a gifted and giving citizen with the passing of architect Barry Berkus. One of his most impressive accomplishments was preparing the rowing and canoeing venue for the 1984 Summer Olympic games. He had to set up special docks, a 2,000-meter course, and spectator seating at Lake Casitas — unlike most other L.A. Olympic facilities, which were ready-made — and return the lake to its pristine condition afterward. … Berkus might be talking basketball, another of his passions, with Rick Majerus, whose burdened heart finally gave out last Saturday. Majerus lived in Santa Barbara in 2004 after a serious heart condition interrupted his 15th season as basketball coach of the Utah Utes. "It was a giant scare," Majerus told me. He was a giant himself, weighing well above 300 pounds. With characteristic humor, he described the eating habits he was trying to reform: "Nobody knew his way around a pizza or a burger like me. I still get twitches when I drive by In-N-Out. Now I'm going to salad bars." The hiatus bought Majerus another eight years and enabled him to return to coaching at St. Louis University, which won 26 games last year.
FAST AND SLOW STARTS: An interesting college basketball season is shaping up here. Westmont teams, men and women, are both 7-1 and ranked in the top 10 on the NAIA national polls. Mark December 28 on your calendars. The Warrior women will be playing host to defending NAIA champion Oklahoma City. … SBCC's women are also 7-1, their best start under coach Sandrine Krul. … UCSB, one of the youngest men's basketball teams in the NCAA, did some growing up last Saturday when it won an 83-81 overtime thriller at Santa Clara. The Gauchos (3-4) trailed by four points with 12 seconds remaining in regulation but tied it up on Kyle Boswell's three-pointer at the buzzer. Sophomore forward Alan "Big Al" Williams had a huge double-double of 29 points and 17 rebounds, both career highs, and was named Big West Player of the Week. … The Gaucho women missed their injured senior forward Kirsten Tilleman when their second-half rallies fell short against USC and St. Mary's, dropping them to 2-5. They should have her back when they host No. 7-ranked Kentucky on December 21.
NOTEWORTHY: Goleta native Dan Fisher, an all-league volleyball star at Dos Pueblos High in the '90s, has reached a pinnacle as coach of the Concordia (Irvine) women's team. The Eagles went 38-0 and won the school's first NAIA national championship. … Cole Robbins, who grew up surfing Rincon with his father Mike Robbins, placed fifth in the ASP World Longboard Championships at Hainan Island in southeastern China.