Education
Juan Crow Lands in S.B.?
Lawsuit Alleges Discrimination at Roosevelt Elementary School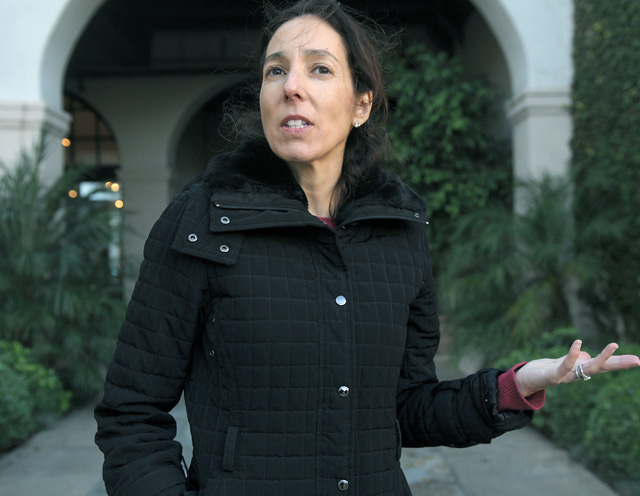 It's an open secret that Santa Barbara schools present two different realities for whites and Latinos. Since Superintendent David Cash took over a year and a half ago, he has spoken openly and often of the so-called "achievement gap" between the two dominant demographic groups on the South Coast. That fact of life is commonly understood as a result of inertial forces like white flight, stratified neighborhoods, and racial insensitivity, but a lawsuit filed against the district last week suggests a deliberate effort to segregate one of the district's elementary schools.
According to a complaint filed by teacher Yolanda Pandolfi-Hopkins, Roosevelt Elementary School Principal Donna Ronzone "singles out Latino parents to determine whether their children met the residency requirements to attend Roosevelt. Some Latino families have had to meet with Ronzone as many as four times to prove their children are allowed to attend Roosevelt," the allegation being that Ronzone is trying to keep her test scores high. Since she took over, the school's API (academic performance index) score ​— ​based on a scale of 1,000, where 800 is considered proficient ​— ​has hovered in the mid 800s and this year the school exited Program Improvement status.
These "residency interrogations" would often result in parents crying in a back room where "they are berated and harassed by Ronzone," states the document. A former office staffer said that Ronzone would take Hispanic ​— ​and sometimes poor white ​— ​parents to a conference room in order to quiz them on their living situation and ask intrusive questions about their income.
Hopkins requested an investigation this summer, which the district granted, but officials will not comment on it. For that matter, district officials cannot discuss the lawsuit. Ronzone did call The Santa Barbara Independent to say so. No evident action regarding accusations of discrimination has been taken. Matthew Clarke, Hopkins's lawyer, said he tried to reach out to the district to strike some sort of deal before resorting to a lawsuit. Hopkins, who has taught at four schools during her 12 years in the district, is seeking monetary damages and a transfer, which she believes Ronzone has so far gone out of her way to prevent.
Throughout her seven-year tenure at Roo­sevelt, a campus rebuilt about a dozen years ago that's a rugby punt away from the Old Mission, Ronzone has been a divisive figure. Of the 35 members on staff the year she took over, 10 remain, including herself. Her office staff has turned over twice. Former employees refer to her as a bully who acts vindictively and unpredictably, and creates an atmosphere of mistrust among her teachers. "She seems real friendly one day, and she's nasty the next," said one former Roosevelt teacher. "Her method of doing things is cruel." One year her teachers took a vote of no confidence that passed 20-3, said a teacher.
But she definitely has supporters, too. Former Roosevelt PTO president Christine Feldman said, "I personally don't think Dr. Ronzone gets paid enough to do what she does." She and others feel that Ronzone gets a bad rap for holding her teachers and parents accountable. "When someone doesn't have proof of residency, what are you going to do about that?" Feldman asked. "She's following the law."
Dennis Naiman, a retired Goleta principal who supervised Ronzone while she updated her credential after moving to a school in Fillmore from Philadelphia, said working with Hispanic students was new to her. Still, he said, "she was very proactive, very bright, very articulate. I really enjoyed working with her because she was so open. She was so open about what she needed and what she saw."
"You really feel like if you don't have blond hair and blue eyes, she doesn't have the time for you."
But the mother of several Roosevelt graduates and a current 6th grader, who did not want to use her name for fear of retaliation against her children, said, "You really feel like if you don't have blond hair and blue eyes, she doesn't have the time for you." Ronzone never went out of her way to make life miserable, said the source. But her son, now a senior in high school, still remembers an incident when he was scolded for horseplay that Ronzone let slide with white kids. Another parent who also wished to remain anonymous said, "When I've asked [Ronzone] to do something that involves my child, she basically ignores it. She doesn't give me the time of day."
This parent confided her concern to Hopkins, who is of Mexican-American heritage and whose first language is Spanish. Hopkins takes a special interest in English-language learners, whom Ronzone, she claims, regularly calls "brown faces." She also alleges in her complaint that Ronzone once said that she hoped the apartment building where a Hispanic boy lived would fall down in an earthquake so the school would not have to deal with his Individualized Education Plan.
When Hopkins told Ronzone how offended she was by such language, Ronzone retaliated by popping into her classroom for unannounced "inspections," deliberately snubbing her in public, and refusing to allow her any professional development days, the lawsuit states. Some believe that the accusations of racism are just a smokescreen to divert attention from complaints about Hopkins's teaching. "She's just not a team player," said Feldman.
Even Latino parents acknowledged that they knew others who had requested their children not be in Hopkins's classroom, but they maintained that the merits of the messenger do not necessarily bear on the merits of the message.