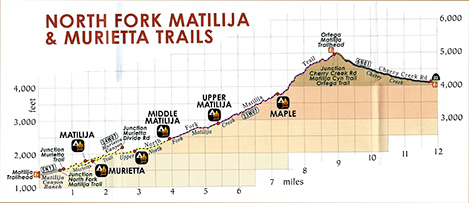 Santa Barbara — Local map guru Bryan Conant has just released a new version of the Matilija & Dick Smith Map Guide published originally in 2008. This newest edition is a complete update from the original print version, with new colors, updated trail information, new camp additions and completely reviewed mileages. The map is available for $10.95 and is available on his website (http://bryanconant.com) or at local outdoor stores.
For those of you who've loved Bryan's maps but wished that he had used the backside to share trail information, photos and other tidbits — your wish has been granted. The backside has route descriptions for each of the wilderness trails, including GPS coordinates for each camp, along with backcountry history and local lore.
The trail information not only is a great new addition but has been arranged to make it really easy for trip planning. There are seven separate sections: Indian & Buckhorn Canyons; Mono and Alamar Trails; Santa Barbara Canyon to Madulce; Alamar & Puerto Suelo Trails; Rancho Nuevo & Deal Canyon; the Don Victor area trails; and the Matilija Wilderness trails. Best of all, Bryan has added really cool route profiles that are worth the price of the map alone.
For those of you who already own a copy of the 2008 map you'll want a copy of the new one for sure. The updates to the main map are welcome but the backside route information, photos and profiles make it a must-buy. For those of you who don't own a copy or want to get more acquainted with the Dick Smith and Matilija wilderness areas, you'll find it a perfect companion for your first trip back there.