Film & TV
Crosstown
Director Miriam Kruishoop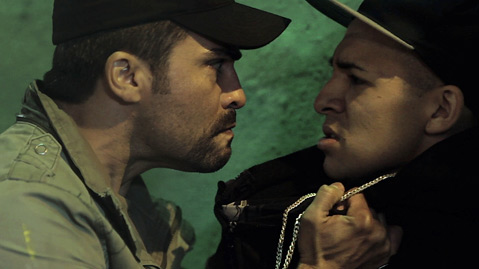 Crosstown is an independent drama about two families in Los Angeles — one Latino, one black, and both struggling to get by with the daily travails of life. When they intersect due to teenage love interests, tensions flare, gangs get involved, and it all gets even heavier.
Filmmaker Miriam Kruishoop recently answered a few questions via email.
What inspired you to tell this story?
I read a story in the news that I wanted to shed light on which had to do with army recruitment. I created the character of Angel, a young boy growing up in L.A. After doing some research, I felt I could bring these elements together. I'm very passionate about L.A. It's home to many people who aren't actually from there yet they feel deeply connected to the place, like myself.
This is very much about tensions between the black and Latino communities in L.A. Is that still a very tense situation, with lots of racism each way?
Unfortunately, I think racism is something that has always existed and always will.
Why can't minority communities facing similar circumstances realize their similarities and band together to better address causes and find solutions?
I agree and I wish people were that insightful. Unfortunately, we'd still rather fight each other than band together. Yet I'm hopeful, and that's also one of the reasons why I made Crosstown.
Does the Army really lure immigrants with hopes of citizenship for families? That's pretty low.
All is fair in love and war, I guess. There are many things that have happened during war time that are questionable.
Is the gang situation in L.A. getting better or worse?
Gangs have always had a strong presence in L.A. and I think they will always have. Latino gangs have a strong presence.
What do you hope people take away from seeing this story?
Empathy, awareness, and change. This may sound very pretentious, but as a filmmaker you want to convey something and, with this subject matter, I clearly strive to draw attention to certain things. Everyone wants to improve their lives and that of their children. I think we are all fundamentally the same in that way. We all fall in love and try to care for our loved ones. I wish every real side that. We all wake up with the same sun, just at different times.
Crosstown screens on Sat., Jan. 26, 5 p.m., Wed., Jan. 30, 10 p.m., and Sun., Feb. 3, 8:10 a.m., all at the Metro 4.