Film & TV
Quentin Tarantino Dissects Himself
Groundbreaking Screenwriter and Director Shares Tips, Sips Margaritas, and Welcomes the Love
In 1994, when I was in high school and already owned a copy of Reservoir Dogs somehow for sometime, I went to see the newest Quentin Tarantino film, Pulp Fiction, on the big screen with some buddies, including some who'd already seen it before.
For an impressionable 17-year-old just sticking his nose into the possibilities of life and art, it was mind-blowing — beyond the brilliant colloquial dialogue, curiously badass characters, and inventive intertwining plot, the about-to-be-Sharpeed Uma Thurman literally drew a square onto the frame, as in, "Don't be a [square]." As a teenager used to the regular flick, the simple use of drawing anything onto an otherwise unanimated film was mind-blowing, revealing that lines could and would be crossed, and the world of cinema hasn't looked back since.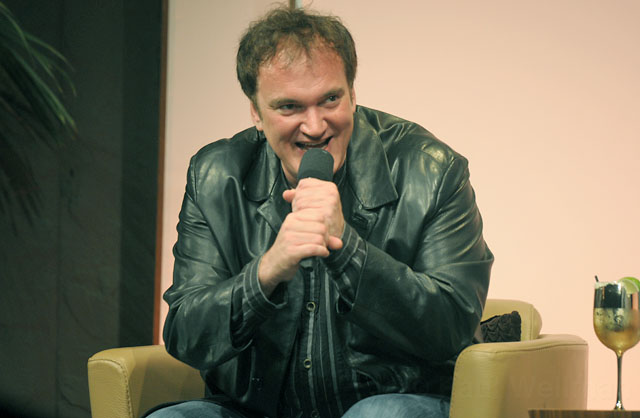 As a midway look at that legacy, screenwriter and director Quentin Tarantino — playing the pinch hitter for presumed homeboy Leo DiCaprio (who dropped out of his Friday night engagement last week) —jumped into SBIFF 2013 to receive the American Riviera Award on Wednesday night at the Arlington Theatre, allowing us all to applaud his inventiveness and creative gusto. He walked from his seat toward the stage accompanied by loud applause, was greeted by L.A. Times film journalist John Horn, and then proceeded to spill his guts about the writing and directing process. Horn ran a pleasantly tight and effective program (all other tribute interviewers, please take note of the expected two-hour timeframe!), with Tarantino's films interspersed in between the chats.
The talk jumped first into the creative writing process, with Tarantino being one of the few mainstream filmmakers that both writes and directs. "I have an idea of where I'm going, but it's like when you know how to get to someone's house, but you don't know the exact direction," said Tarantino, of how he develops a script, letting the character evolve on their own. "You have to find your way on your own, and you trust that you'll end up at your friend's house."
In that way, the script delivers the Tarantino vision before his camera ideas even get involved. "I'm still trying to write a good page," said Tarantino, who explained that he writes more like a novelist, in that the written result could be a published product itself. "I'm trying to put the word together in a way that's both clever and talented, and it works like literature. It could be bad literature, but it works like literature. It's not just a blueprint of what's supposed to happen."
And he does it mostly in long-hand. "I can't write poetry on a computer, man," explained Tarantino, garnering perhaps the most applause of the night.
Following more than an hour of conversation and video clips — interspersed with a few margarita deliveries, reportedly from Opal on State Street, followed by a mid-tribute pee break from the star — SBIFF executive director Roger Durling came on stage to present the award, delivering a heartfelt speech that concluded with crediting Tarantino for making film geeks cool again. Tarantino seemed rather moved by the entire event and Durling's speech, and accepted his American Riviera Award with modesty.
After the event, the VIP crowd rolled down to the Michael Kate Interiors, where feasting was upon appetizers made by the head chef of the Yacht Club and champagne provided by Moet-Chandon. But Tarantino, it turns out, was hanging at Restaurant Roy, eating lots of seafood and steak.