Announcement
The Samarkand Retirement Community Breaks Ground on New LifeCenter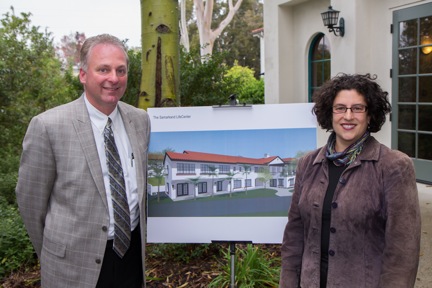 The 9,527-square-foot, two-story, Santa Barbara mission style building is slated to become the new hub of campus life for Samarkand residents, staff and visiting family members.
"The LifeCenter will bring a new level of services and amenities to senior living in Santa Barbara," said Paul Peterson, Samarkand executive director. "The third building we've added to our retirement community since 2000, the LifeCenter's purposeful design demonstrates our commitment to being in the vanguard of senior living."
The LifeCenter will house a café with indoor and two outdoor seating areas. The shaded fireplace terrace will overlook the mountains; the patio will face an outdoor water feature. There will be an 1,183-square-foot aerobics/multipurpose room, wellness clinic and fitness center; computer lab; office space for the community's 40 resident-led committees; studio for the in-house TV channel; a gallery of Samarkand history; and space for the residents' clothing/accessories resale boutique.
The Covenant Retirement Communities board of directors, President Rick Fisk and Executive Vice President Terri Cunliffe joined Santa Barbara Mayor Helene Schneider, Samarkand residents, employees and friends in celebrating the groundbreaking for the new building.
"The LifeCenter is a great example of how to foster neighborly relationships, take advantage of Santa Barbara's climate and beautiful vistas, and use an environmentally friendly design that will promote the health and well-being of all who visit," said Santa Barbara Mayor Helene Schneider. "Kudos to The Samarkand team on their leadership in creating this new community center."
The Samarkand tapped the expertise of resident experts and asked six residents to work with the project team and identify critical components of the building.
Deeply committed to Santa Barbara's passion for environmental sustainability, The Samarkand ensured that the LifeCenter will make a delicate environmental footprint and feature LEED certified design, construction, operation and maintenance solutions, including:
• Locally or regionally produced construction materials
• Wall, floor, and ceiling insulation R-values that meet or exceed code
• Double-glazed, energy efficient windows
• Energy efficient compact fluorescent light fixtures
• Low VOC interior paint
• Landscaping with native species to limit watering
• Protection of existing oak trees or, if necessary, removal and replacement at a five-to-one ratio
"Our environmental attention started with the planning," said Peterson. "When we removed a maintenance building to make way for the LifeCenter, we recycled almost 100 percent of the building material."
Construction of the new building is expected to take 14 months. The project team for the LifeCenter consists of architects Kilburn Architects LLC, Seattle, Wash.; contractor Trabucco and Associates, Santa Barbara, Calif.; and project manager Covenant Solutions, Skokie, Ill.
The Samarkand, 2550 Treasure Dr., Santa Barbara, is one of 12 retirement communities nationwide that are administered by Covenant Retirement Communities Inc. One of the nation's largest not-for-profit retirement community organizations, Covenant Retirement Communities operates communities in eight states and is a ministry of the Evangelical Covenant Church. For more information on The Samarkand, visit www.TheSamarkand.org.