Briefs
Science Satellite Watches the World
Developed by NASA and Controlled by U.S. Geological Survey, Landsat 8 Launches from Vandenberg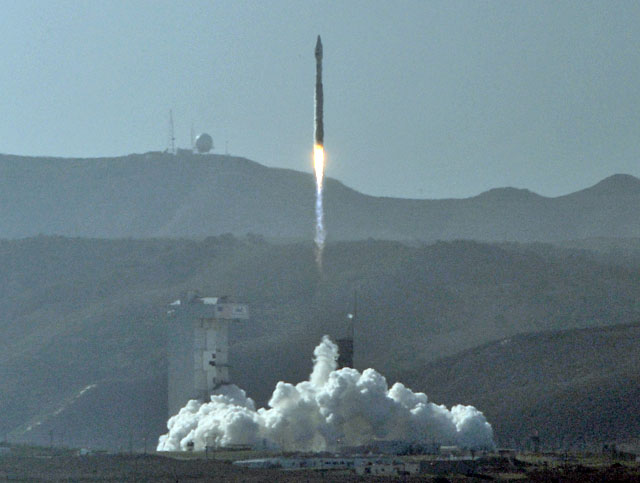 With a steady growl that crescendoed into a crackling roar, an Atlas V rocket blasted off from Vandenberg Air Force Base Monday morning watched by hundreds of Central Coast spectators and at least one startled coyote that hurried past the media viewing site.
The rocket carried a NASA satellite that extends a continuous, 41-year mission of watching from above man's impact on the planet. The Landsat 8 — a science-minded collaboration with the U.S. Geological Survey, which took command of the $855 million rig now that it's in space — will spend the next years orbiting the planet pole-to-pole, traveling at 4.7 miles per second, crossing the equator 14 times per day, and beaming back images and data sets tracking deforestation, glacier recession, wildfires, invasive species encroachment, coral reef health, and so on.
The visual information — also used by Google Earth and cell phone companies — is accessed by countless organizations across the globe to look at energy and water management, urban planning, and agricultural monitoring. The world's latest eye in the sky has a design life of five years but enough fuel on board for 10 years of operation. It takes over the orbit path of Landsat 5, aloft for a staggering 28 years, and will trail Landsat 7, launched in April 1999. Landsat 6 took off in October 1993 but didn't reach orbit.
As the rocket slowly rose from its seaside platform but then quickly accelerated into a cloud-free sky on a southbound trajectory, NASA project manager Bruce Cook let himself relax a little. "This will take a lot of weight off a lot of people's shoulders," he said, noting the next hurdle would come in about 90 minutes when the Landsat's solar panels were scheduled to unfurl. They did. "We're past the point where I was holding my breath," said NASA researcher Phil Dabney.
Cook explained Landsat 8 carries with it a number of improvements from its predecessor. The more than six-ton satellite has a new pushbroom sensor — more reliable than Landsat's 7 whiskbroom sensor, which recently failed — and can see nearly double the amount of color levels. Landsat 8 — whose main mission, in a nutshell, is to detect energy reflected from the ground — also has better thermal imaging modules to correct for atmosphere distortion, developed and produced by Goleta's Raytheon Vision Systems as part of an ongoing contract with NASA. All new gadgetry was meticulously vetted. "Hope is not a good engineering design," Cook quipped.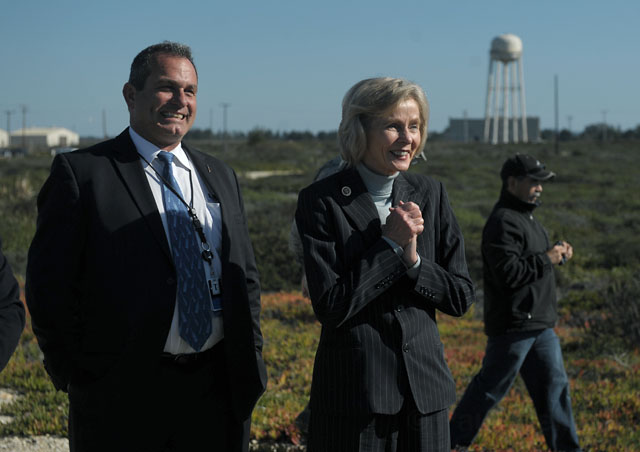 Arriving at the bluff-top viewing point just before takeoff was Congressmember Lois Capps, accompanied by United Launch Alliance representatives. Though it wasn't her first rocket rodeo, Capps couldn't hide her excitement. "I'm just blown away," she said smiling. "It's a tremendous sense of pride and accomplishment." Later in the afternoon Capps joined Secretary of the Interior Ken Salazar for a post-launch briefing.
Cook explained that the Landsat fleet falls below GPS and weather satellites in order of priority, making funding efforts difficult at times. "Right now it's a one-off kind of thing," he said. "In the future we'd like to have greater continuity." Since cloud cover is the biggest challenge to seeing what's on the ground, obscuring any given location around 50 percent of the time, Cook said he's nevertheless pleased there are now two Landsats on the same path, which doubles the chance of successfully snagging a point of interest.
The fleet's mission is a noble one, he went on, to gather gobs of previously unattainable data that could help stop or even reverse some of the damage already rendered to the planet. "The satellite isn't just a high-tech camera," he said.