News
Cops on Trikkes
Two Patrol Officers Will Soon Ride Three-Wheeled, Electric-Powered Scooters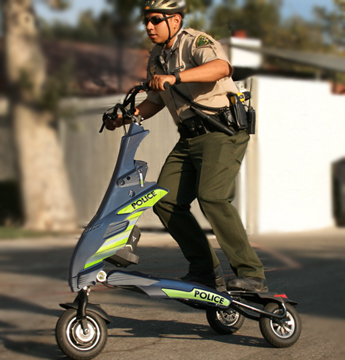 Soon, Santa Barbara cops will be seen patrolling high-profile areas while riding three-wheeled, electric-powered scooters known as Trikkes and built in Buellton. The Santa Barbara Police Foundation authorized the expenditure of $8,000 to purchase two of these distinctive green energy vehicles.
Although the name of the vehicles is causing some heartburn — "We're calling them 'motorized interceptors,'" said Deputy Chief Frank Mannix, tongue only somewhat in cheek — the idea is to generate greater visual impact to the officers patrolling downtown, along the waterfront, and on Milpas Street, areas where the demand for beat officers is greatest. Bicycle cops, explained Sgt. Ed Olson, tend to get lost in the shuffle.
The Trikkes, quick and agile, ride several inches off the ground and are hard to miss. Olson said the Trikkes would be more helpful suppressing criminal behavior than in after-the-fact enforcement actions. Exactly how and when the Trikkes are deployed is still being worked out. Probably, he said, they'd be used by the various beat coordinators and only when circumstances indicated.
Olson said the department initially explored using Segways but went with Trikkes instead because they cost half the price, are considerably lighter, and can be folded up. In addition, he said, they're safer to dismount. Oslson praised the Segway representatives with whom he worked, but acknowledged there'd been blowback by some officers. "There was the whole dork factor," he said, "the mall cop thing."