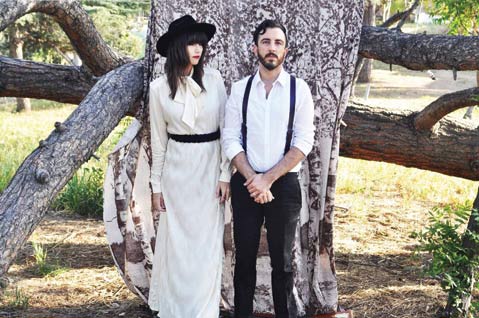 DOWN IN THE VALLEY: There's plenty of great new music swirling in and around Southern California of late. Just take, for example, last weekend's killer showing by L.A. up-and-comers James Supercave and Gothic Tropic at Muddy Waters Café. This week, another promising Los Angeles act makes its way to the 805 when In the Valley Below plugs in at Velvet Jones on Saturday, February 16. The band is the brainchild of L.A. transplants Angela Gail and Jeffrey Jacob, who share creative control and vocal duties alongside keyboardist Jeremy Grant and drummer Joshua Clair.
As for why they're worth a listen, it's all in the vibe. Together Gail and Jacob create a rich and affecting mix of dark and light. Their sound combines ethereal vocals and spiritual allusions surrounded by gauzy instrumentation — think atmospheric synths, gritty guitars, and reverberating drums. The result is a soundscape that's equal parts eerie and harmonic, à la those other moody music makers, the XX. As for sonic touchstones, the band names everyone from Peter Gabriel to Yes to Can as influences, and cites country, prog, and folk rock as just some of their choice listens.
To get a taste before the rest of the world catches on, head out to Velvet Jones (423 State St.) early on Saturday, February 16. In the Valley Below opens the show, followed by headliners Sir Sly. For tickets and info, call (805) 965-8676 or visit clubmercy.com. Doors are at 8 p.m.
LONE ESPER: Few voices are as instantly recognizable as Meg Baird's. As one-third of the Philly psych-folk act Espers, her soft lilt brought an undeniably feminine touch to the band's lush orchestrations. In solo mode, Baird's nimble acoustic guitar work is nearly as noteworthy as the sweet melodies she pairs with it, often drawing comparisons to harp-bound contemporary Joanna Newsom. And then there are the collaborations. Baird has lent her old-timey vocal stylings to recent recordings from Bonnie "Prince" Billy, Kurt Vile, and Sharon Van Etten, to name a few, and imbued each guest appearance with a sound that is undeniably her own.
This Tuesday, February 19, Baird wings through Isla Vista for an intimate show at the Biko Co-op Garage (6612 Sueno Rd.). The outing comes on the heels of her recent cross-country move from Philadelphia to San Francisco, and we're hoping it's just the first of many. The all-ages show starts at 7:30 p.m. and features sets from Daniel Bachman and Crooked Paw. For info, visit sbdiy.org.
BOWL-ED OVER: It's official. Coachella 2013 is on its way. And even if you're not inclined to shell out the cash and slather on the sunscreen for Indio's annual party in the desert, you can certainly reap the benefits. Thanks to a nice little concert-booking caveat, bands and artists scheduled to perform at big-ticket fests like Coachella are forbidden to play within 100 miles of the venue in the weeks surrounding the event. What that means for Santa Barbara (which is just over 200 miles north of the Coachella Valley) is two weeks' worth of great one-off shows, coming to a venue near you. While it's still too early to start scoring your tickets, you can start by penciling in Sigur Rós, who this week announced a date at the Santa Barbara Bowl for Friday, April 19. (The band will headline Coachella on Saturdays April 13 and 20.) For fans of the ambient and Icelandic, this is sure to be the concert of the season. As for the rest of the Coachella spill-over, I'll be keeping my eyes on Songkick and crossing my fingers for The Stone Roses.