Arts & Entertainment
I Want My Yo Gabba Gabba!
Talking with Christian Jacobs, Creator of the Coolest Kids' TV Show Ever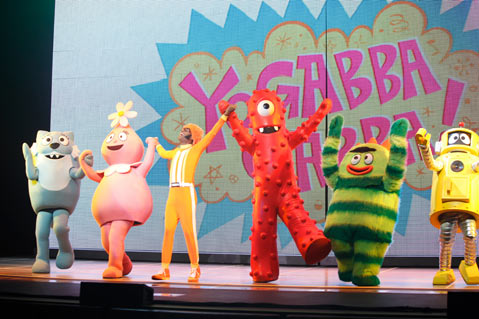 When my now 3-year-old son was barely crawling, I found out that hip-hop legend Biz Markie was a regular fixture on a television program where he taught kids to beat-box. I quickly became hooked on this magical small-screen world where colorful characters emerge from a ghetto blaster, drop some relevant knowledge for kids (like "don't bite your friends"), and mingle with the latest indie rockers (of Montreal, MGMT, The Shins) and greatest cultural icons (Jack Black, Fred Armisen, Anthony Bourdain) of the day.
Welcome to Yo Gabba Gabba!, easily one of the coolest children's television shows ever created and perhaps one of the more fascinating parts of being a parent today. Oh, and the kids dig it, too.
This Friday, March 8, kids and parents across Santa Barbara will descend on the Arlington Theatre to welcome the live stage version of Yo Gabba Gabba! I recently talked to the program's cocreator Christian Jacobs (also of Aquabats fame) to learn more about the show and the stage.
Did you have kids and realize that children's programming sucked?
I just felt like everything that I was watching with my kids was made by old hippies. No offense to any old hippies, but we grew up listening to hip-hop and skateboarding and going to the beach, and it just felt like there's a different vibe on a lot of kids' shows. Not that we want to throw kids too far too quickly, but I would just watch those shows and think, "This is painful." I'm not saying Yo Gabba Gabba! is for everybody, but we try to make it for the age of parents who have a preschool-aged kid.
Why did it take almost 10 years from conception to airing?
The big reason was because we were just moonlighting in trying to put a kids' show together, and we were trying to find investors to pay for it. We didn't want to go the traditional studio route — no one was gonna get the idea, and things always get shuffled and changed around once the studio gets its hands on it. So many people there are paid to make decisions, and we felt like it would get too cloudy unless we presented it as whole. It took a couple years to find the money and figure out how to do it since we wanted to do it ourselves, punk-rock style. But that's what helped launch the show, the attitude and confidence in what we had. When we were shooting the pilot back in 2006, paying for it ourselves, we just could feel it — we knew it was gonna do something.
Unlike most kids' shows, Yo Gabba doesn't really focus much on education.
Sesame Street kind of cornered the market for that, and there are so many educational shows. But while there's a lot of emphasis on curriculum and learning new languages and the ABCs, there was not a lot of "How do you treat people?" There wasn't a lot of behavioral education. It's a given that parents are supposed to teach you how to share and to reprimand you, but judging from some kids in my neighborhood, there wasn't a lot of parenting going on.
We wanted to instill and reinforce some of those lessons we all need to learn, like getting along, loving each other, that we're all part of a big family. It's not just about getting smart but knowing how to interact with people in social situations. All of the characters living together in their weird magic world, they all represent a different piece of one kid; they all have a positive trait and a little flaw. So they're always trying to, like a Rubik's cube, fit together and work out their issues.
You can always teach them how to read, but teaching someone how to share or respect and love others, that's super key.
Based on the explosion of cooler kids' shows, you seemed to have changed the market.
The way the industry is — I don't want to compare it to zombies — but once something starts making some noise, it starts heading in that direction. It's a ratings game. We noticed suddenly there's all these shows doing hip-hop beats and having interesting guests. Even Sesame Street started shifting their roster to being more indie. They're gonna always get Beyoncé and Mariah Carey and Paul McCartney, but we suddenly noticed Vampire Weekend on Sesame Street. That wouldn't have happened before our show. Before, unless it was on the Billboard Top 20, it wasn't on Sesame Street, but now they're fishing in our pool. That's cool. If anything, that's flattering. People are taking notice.
What can we expect from the live show?
It's very much like the TV show in spirit but also with the same segments. Biz Markie will teach beat-boxing live — to me, that alone is worth the price of admission. But being a dad and knowing that there are other live shows out there, it's not cheap. It's tough if you've got a couple kids, and you've got to pay for parking. We wanted to make sure that the show was for dads and moms and families and was worth it. I've been to kids' shows and paid a lot of money and bought the balloons and thought, "That was so stale; I'm bummed." We really wanted to create something that is gonna be just as fun for the parents as it is for the kids. You're basically buying a memory, and you create this memory together with your children. You're dancing with them; it's organic; it doesn't feel forced.
4•1•1
Yo Gabba Gabba! comes to the Arlington Theatre (1317 State St.) on Friday, March 8, at 3 and 6 p.m. Call (805) 963-4408 or visit thearlingtontheatre.com or yogabbagabba.com for info.