Briefs
'Last Gasp of a Desperate Litigant'?
Pappas Petitioning U.S. Supreme Court to Avoid Paying Farr over $700,000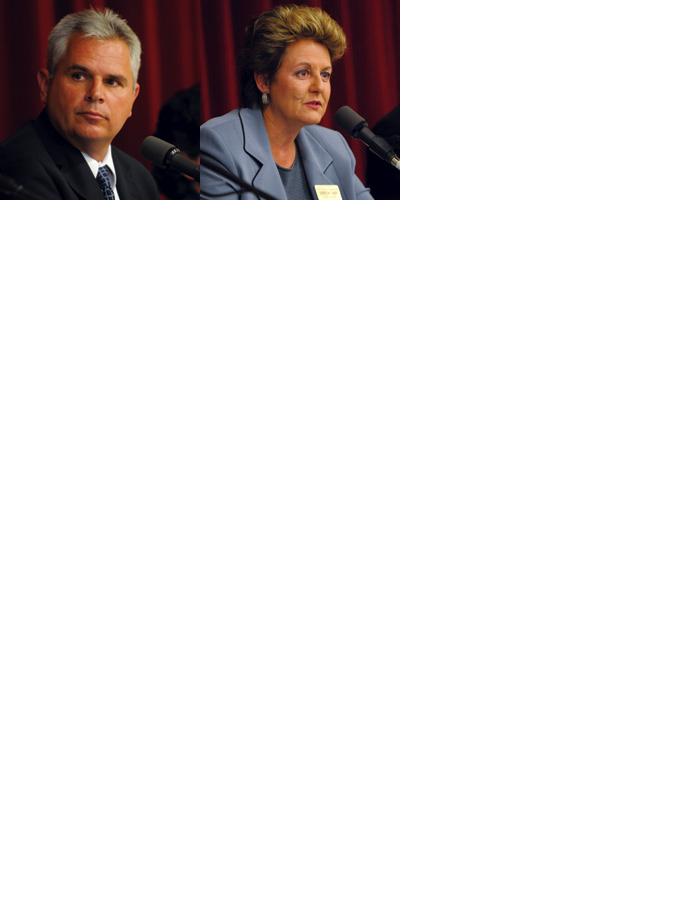 A judge all but denied a request Monday morning from former county supervisorial candidate Steve Pappas to hold off on executing a judgment against him while he petitions the U.S. Supreme Court.
Judge Colleen Sterne is still mulling her decision, but if and when she makes it official, Pappas will have to pay 3rd District Supervisor Doreen Farr — who beat Pappas in 2008 and again in 2012 — $712,534.93 in attorneys fees plus interest. Each day he doesn't pay adds another $145 in interest. The total amount includes the costs Farr incurred in fighting her appeal — another $110,043 — which is tacked on to the original $528,657.50 fee awarded to Farr in October 2011 and $72,563 in accrued interest.
It's been four long years since Pappas first filed a lawsuit to overturn the 2008 election, which he lost to Farr by 806 votes, a margin of more than 2 percent. Pappas attempted to get all votes cast for Farr in Isla Vista thrown out, citing voter fraud. Judge William McLafferty quickly dismissed the case after hearing just a portion of Pappas's evidence. Pappas appealed and lost. After, Farr won attorneys fees, a decision Pappas appealed, but the Court of Appeal sided with Farr.
Most recently, Pappas asked the court to pause the execution of the judgment until later this month to allow him to petition the U.S. Supreme Court, claiming the statute under which Farr won attorneys fees was unconstitutional. Sterne, however, was ready to side with Farr and found there was nothing in California law that justified her stalling the judgment. "Farr is prejudiced by continuing delays in payment of the judgment," Sterne wrote in her ruling, saying Pappas misread the applicable statute.
But Monday morning in court, she agreed to a request from Pappas's attorney Barry Cappello to look at Pappas's petition of the U.S. Supreme Court — filed Friday afternoon — before she makes her decision final. In Pappas's petition, he argues that an individual who has made a good faith showing that an election was won by fraud should not have to be penalized with attorneys fees. Cappello said the issue he hopes to raise at the U.S. Supreme Court level is "very important to the citizens of the entire nation." Still, only 5 percent of petitions to the country's highest court are actually heard.
Fred Woocher, attorney for Farr, said that Pappas didn't make a good faith showing, noting McLafferty — who has since passed away — said the claims from Pappas were "frivolous and tantamount to an intentional misleading of the Court."
Sterne, in her written tentative ruling, said that even if she did have the authority to grant the motion for a stay, she would not have. "This motion and the forthcoming petition for writ of certiorari have all the earmarks of the last gasp of a desperate litigant to delay the inevitable," she said of Pappas's latest antics. "Equity does not favor this conduct."
Meanwhile, the court granted Farr's motion for attorneys fees on appeal. Sterne did so over the same, repeated claims from Pappas. "This court rejected that position then and the court of appeal has rejected it as well," Sterne wrote in response. "This is the law of the case." As well, Pappas claimed the request for fees was excessive.
Pappas had a stay on paying the judgment, pending his appeal. He filed an undertaking in order to obtain the stay. But, Sterne said, "the undertaking was given on condition that, if the judgment was affirmed, Pappas would pay the amount of the fee award order with interest. Farr has demanded payment and Pappas has refused to pay." The court once again sided with Farr, though it denied her request for attorneys fees in litigating that specific issue.
If Sterne, after reading Pappas's petition to the U.S. Supreme Court, sticks with her ruling, Farr can pursue the money from Pappas and the surety company that has guaranteed the money.
Farr's attorney Fred Woocher, speaking facetiously about Pappas drawing out the legal process, said he was "very impressed with Pappas's ability to turn a $200,000 fee award into a $750,000 award."
Pappas, in his quest for the supervisor's seat, was heavily financed by rancher Nancy Crawford-Hall. In total, she contributed more than half a million dollars to his campaign. She was also one of the ringleaders of the group that contested the election. It isn't known how much in total she has contributed to bankroll the ongoing litigation.