Food & Drink
Three Decades with Bob and Jim
Owners of Qupé and Au Bon Climat Celebrate 60 Years of Life and 30 Years of Winemaking
No pair of vintners has done more to pioneer the promise of Santa Barbara County and promote restrained winemaking in the traditionally exuberant New World than Bob Lindquist and Jim Clendenen, who both celebrated their 60th birthdays in January while also enjoying the 30th anniversaries of their respective wineries.
Each founded in 1982, Lindquist's Qupé Wines and Clendenen's Au Bon Climat Winery came together under one roof in 1989, when the old friends teamed up to build a permanent winemaking home at the Bien Nacido Vineyard in the Santa Maria Valley. There they've worked happily ever since and, thanks to their enduring success and international impact, probably ever after, too. Here's a look at each man during this epochal moment of their lives.
Long-Haired Legend: Jim Clendenen, Au Bon Climat
Before the 2004 film Sideways made California pinot noir famous, its only real fans were hard-core collectors who appreciated its regal roots in Burgundy, France. But thanks to working a harvest there in 1981, Clendenen — who graduated pre-law at UCSB but gave that up for a job at Zaca Mesa Winery in 1978 — focused his entire career on perfecting pinot and chardonnay (Burgundy's white wine grape) by founding Au Bon Climat with friend Adam Tolmach (now of Ojai Vineyard) inside a Los Alamos dairy barn in 1982.
From the beginning, Clendenen made lean, acidity-minded, age-worthy, Old World–style wines, suffering both global praise and critical scorn in the 30 years since, depending on which ways the wind blew. "I worry more about the international understanding of what we're trying to do than I do the vagaries of fads that come and go in California," said Clendenen, who's beloved in Europe because of that stance. "When you get something that's seamless and supple and rich and textural and glorious, you don't forget it. That's why, at the end of the day, interested wine collectors start with riesling and cabernet and end up with chardonnay and pinot noir."
Unlike pinot, chardonnay has been a top performer in California for decades. But when many wineries started making bold and buttery chardonnays with very ripe fruit and lots of oak-barrel influence, more discriminating palates launched the "anything but chardonnay" movement. That didn't hurt Clendenen, though, because much as he didn't bend his pinots to fit a post-Sideways, fruit-forward style, he never changed the way he did his chards, always a bit more crisp and vibrant than rich and luscious.
"Chardonnay has taken a beating, but we never had a dip in sales," said Clendenen, who also believes that the buying up of Santa Barbara County chardonnay vineyards by big Northern California wineries in the late 1990s, paired with an overripe fad and subsequent price drop, did great harm to the region — maybe intentionally. "I'm not Oliver Stone here, but there was a period of time when Santa Barbara County had such a better reputation for chardonnay than any place in the north," he said. "We would have grown faster if people had taken minerality, vibrancy, and acidity into account."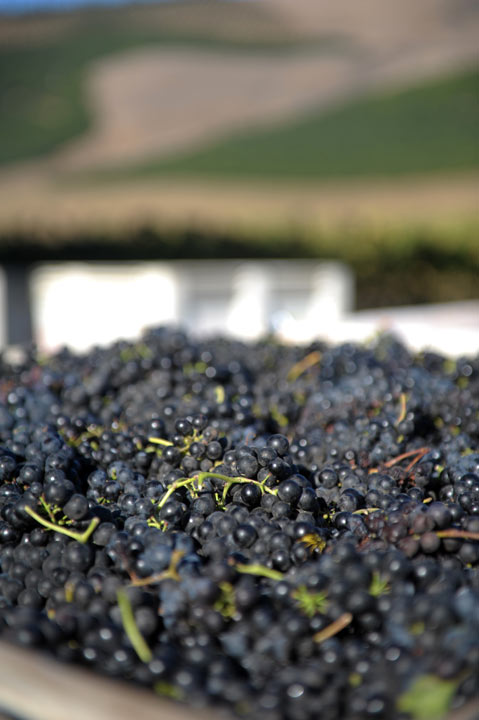 Those elements come down to making wines that match rather than compete with food, another notion more appreciated by the Old World than the New. These days, Clendenen lives that tradition by making gourmet feasts for his employees every working day of the week, a luxury that only a veteran vintner can enjoy. "The staff is so well trained, I don't do a lot of hands-on production anymore," said Clendenen, though he is involved in buying grapes, blending, and sales, as he didn't hire a national sales manager until two years ago. "I found myself tasting wine too early in the morning because that's all I was doing. So now I am making lunch, sitting down with the whole staff each day, and talking about the direction we're going."
As for his trademark long locks, Clendenen had the plan to have hair like Jesus and a belly like Santa Claus. "When a kid sees Jesus and Santa Claus in the same guy, that's a popular fella!" he said with a laugh. "But people told me that the kids were seeing Charles Manson or the KISS band." His looks do still reflect an iconic individualism, though. "To pursue a passion as vigorously as I pursued mine, you need a little bit of that freedom."
A few years ago, Clendenen closed the circle on his career, buying the Los Alamos ranch where he first started making wine and planting seven acres of grapes with 2,000 olive trees, an organic vegetable garden, and "oddball things" like pink peppercorns. "I have a good lifestyle, and I've been able to buy real estate, but every dollar I've earned in my life I earned in the wine business — not many people can say that," said Clendenen. "It's amazing how few people who started off when Bob and I did were able to make their small companies work and grow and be self-sustaining. It's been a great trip."
See aubonclimat.com, call (805) 963-7999, or visit the tasting room at 813 Anacapa Street in Santa Barbara.
Syrah's Steady Hand: Bob Lindquist, Qupé Wines
No wine grape in California has endured as much of a roller-coaster ride through popular peaks and glutted valleys as syrah, the varietal originally perfected in France's Rhône valley that — depending on where and how it's grown — can be crafted to show off savoriness and spice or ignited into the juiciest fruit-bomb imaginable. Those dueling identities have been part of syrah's problem, but Lindquist, the fourth person in the state to ever make wine from the grape, has kept a steady hand on the Old World–style wheel, repeatedly relying on the cool climate of the Central Coast to produce syrahs that favor acidity over sweetness, pepper over cherries, and intrigue over indulgence.
"The consumers were confused: Is it supposed to taste like Côte-Rôtie or Yellow Tail shiraz?" said Lindquist of the glut eras, which came from overplanting and overcharging before winemakers understood how to handle it properly. "I had the good sense to specialize in cool-climate syrahs, and there's no place better than the south Central Coast."
A Southern Californian since age 11 and rabid Dodgers fan, Lindquist started his career in the wine business in 1975, and he arrived in the Santa Ynez Valley on New Year's Day 1979 to manage a Los Olivos tasting room. Fired for going to a Kinks show, Lindquist landed a job as Zaca Mesa's first tour guide — and, there, befriended Clendenen, then assistant winemaker at the historic winery. That was way before Sideways, which meant very few tourists and lots of time in the cellar with Clendenen, Ken Brown, and Tolmach, which meant the birth of Qupé Wines in 1982.
"It was a great place for learning," said Lindquist of his days at Zaca Mesa with Clendenen and the two other legends. "We were all in it together, pioneering Santa Barbara County, learning the climate, and learning the grapes and how to handle them."
Qupé's production of mostly syrah and chardonnay steadily grew. By the late 1980s, he needed a permanent home, which is when he and Clendenen hatched the still-standing deal with Bien Nacido. "They were looking for young and up-and-coming winemakers to align themselves with," said Lindquist, "and that was us." In 1989, he made 8,000 cases and had started using other Rhône varietals also, including the white wine grapes viognier and marsanne, of which he was California's first producer and is still one of the few that do the often heavy and oily grape in a more acidic style.
Today, Qupé — the Chumash word for "poppy" — makes 40,000 cases per year, half of which is $20 Central Coast syrah blend, but which also includes special bottlings that fetch close to $100 each, like the 2008 X Block syrah, the designated 30th-anniversary wine. Lindquist and his wife, Louisa Sawyer Lindquist, also own the Sawyer-Lindquist Vineyard in the Edna Valley, near their Arroyo Grande home, which they use to produce a pinot noir as well as Louisa's Verdad brand of Spanish varietals like albariño, tempranillo, and graciano. But it always comes back to the spell that syrah placed on Lindquist three decades ago.
"I consider ourselves the market leaders of fine California syrah," he explained. "All along, we've kept this path of balanced wine with structure and acidity. It hasn't been without challenges, but we're managing to hold our own and keep going."
See qupe.com, call (805) 686-4200, or visit the tasting room at 2963 Grand Avenue in Los Olivos.