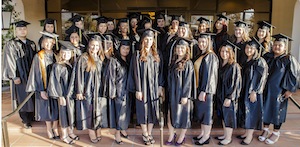 In a festive act, the College awarded its first Bachelor of Science in Business Administration degrees, as well as career-focused associate's degrees and diplomas. The strong tradition of SBBC in the local medical field was represented by degrees in the fields of health information technology, medical assisting and medical office administration.
With 29 graduates honored at the ceremony, a few of the graduates also received special awards. Deborah Helm and Rachel Lawton were honored as the class Outstanding Graduates and received recognition for their perfect attendance. Student speaker Traci Eberhard, who in a very inspired and emotional speech recollected the challenges some students had to master along the way, also was presented with the Esther Taboada Award. In memory of SBBCollege's former student Esther Taboada who was tragically murdered in 1992, this award recognizes a student who had to overcome vast challenges in order to succeed.
The ceremony, which was attended by over 300 enthusiastic family and friends, took off with a Marine Guard of Honor and the pledge of allegiance, and had as its highlight Dr. Charles Fenzi (MD), the Chief Medical Officer of the Santa Barbara Neighborhood Clinics, as its keynote speaker. The neighborhood clinics and SBBC enjoy a long successful co-operation with work-study candidates, externs and graduates that now are in the employ of the Clinics. Also, through the SBBCollege Cares Program, students and staff have volunteered in annual health screening fairs with SBNC.
As SBBCollege celebrates its 125th anniversary, the College wishes its graduates the best of luck in Santa Barbara's business world and medical centers!
Class of 2013
Bachelor of Science – Business Administration
Marylu Diaz
Rachel Lawton
Associate of Science – Business Administration
Diana Peralta
Associate of Science – Health Information Technology
Isabel Murillo
Eddie Trujillo
Associate of Science – Medical Assisting
Traci Eberhard
Amber Gutierrez
Jessica Gomez
Mayra Mosqueda
Stacie Robertson
Cristina Rodriguez
Elizabeth Rodriguez
Shawntae Rodriguez
Isamara Valencia
Veronica Villanueva
Tracy Whitecotton
Monica Yescas
Medical Assisting
Lizette Alcala
Alejandro Alvarez
Alicia Duran
Deborah Helm
LaToya Henderson
Alma Hernandez
Sarah Klinedinst
Pauline Rangel
Denise Salgado
Jasmine Toro
Travis Traefald
Medical Office Administration
Diana Alonso