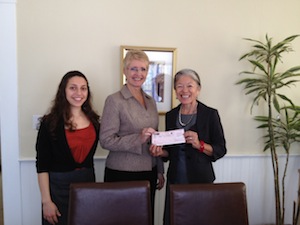 DCH Lexus staff nominated CALM as one of four local charities that customers could select to honor during their DCH Lexus Community Appreciation event.
Coinciding with DCH Lexus's one-year anniversary, the Exceptional Vehicles for Exceptional Causes benefit was conceived of to give back to the community that has so warmly welcomed the full-service car dealership. Through the last two weeks of March, customers leasing or purchasing a new vehicle had the opportunity to choose one of four local nonprofits that would receive a $100 donation on behalf of DCH Lexus. According to Sally Smeed, DCH Lexus of Santa Barbara General Manager, seven customers chose CALM as the recipient charity, making it their customer's most popular charity of choice during their Community Appreciation event.
"We are incredibly grateful to DCH Lexus for choosing CALM as a recipient for their special Community Appreciation event," said Cecilia Rodriguez, Executive Director at CALM. "The choice of so many of their customers is a wonderful affirmation that the work that we do in the community to prevent, treat, and assess child abuse and neglect is valued and appreciated. Thank you DCH Lexus for choosing to raise your voice with CALM."
"CALM was the first nonprofit organization that we worked with more than a year ago when we opened our dealership," said Smeed. "We had the opportunity to host CALM's annual cocktail party for the Celebrity Authors' Luncheon, which was a great success. Santa Barbara and CALM welcomed us so openly, and we couldn't think of a more appropriate way to convey our gratitude."
Vice President of DCH Lexus, George Yazbek, added, "We strongly believe that our success as a dealership is a direct result of our commitment to excellence, as well as our willingness to make a difference. After observing the incredible vision behind these non-profit organizations, it is evident to us that they, too, share similar values. We are proud to recognize their respective progressive missions and wholeheartedly offer our support to each."
CALM was founded in 1970 to reach stressed parents before they hurt their children. CALM continues to be the only non-profit agency in Santa Barbara County focusing solely on preventing, assessing, and treating child abuse and family violence through comprehensive, cutting-edge programs. CALM offers children, families, and adults a safe, non-judgmental, caring, and strength-based environment to heal and increase family well being. For more information about all of CALM's services, please call 805-965-2376, or visit here.