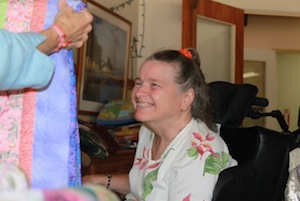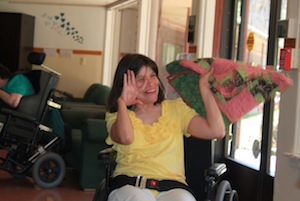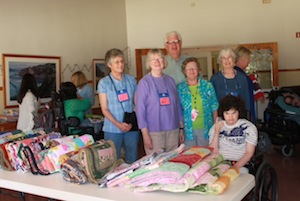 Delivering the quilts were members of the Community Quilts Committee, Carol Hart, Edalee Keehn, Barbara MacCallum, and Nancy Miller. Craig Olson, Executive Director of Hillside House, and Client Services Director, Gail Metzger, met the quilters along with several of the residents. Hillside House is home to 59 residents, and each resident received two quilts from the Guild.
Hillside House resident Patty said delightedly, "My favorite colors are burgundy and white, and I was able to get one with those colors." Another resident, Joanne, exclaimed, "I think they're going to look great on our beds!" Gail Metzger, Client Services Director, said, "We are very grateful to the Coastal Quilters for their kindness. Having homemade quilts helps make Hillside House more homey and beautiful and gives our residents something special to cherish as their own. The residents responded really positively to the variety of patterns and colors and had strong preferences about which quilts they wanted. Thankfully, everyone seemed to get quilts they really like, and the residents very much appreciated this gift."
The Community Quilts Committee oversees the making of quilts for charities in the Santa Barbara area, as part of the Coastal Quilters Guild's overall mission. Started by Marty Frolli in 1988, the Coastal Quilters Guild has over 270 members, meets monthly and has made quilted items for Food from the Heart, Mobile Meals, Serenity House, Visiting Nurse and Hospice, St. Vincent's, and Unity Shoppe, among many other projects.