Theater
Ensemble Stages Last Show at the Alhecama
Frankie and Johnny in the Clair de Lune Opens June 6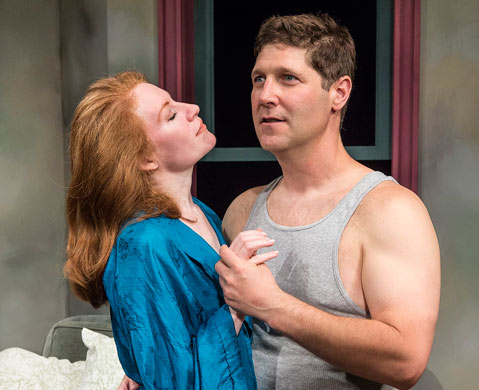 Outside of natural disasters or armed combat, few situations make people feel more vulnerable than that first post-coital conversation. You're both naked, but the frenetic urge that got you that way has passed, and now you're back wherever it was you started from on the voyage toward…what, exactly? The shortest route to the door would be one common answer, and wedded bliss would perhaps be the opposite result, both in tone and in frequency of occurrence. Whatever it is, it's likely to begin happening in a hurry because, well, because you're both naked, and that's not something you can just ignore.
In Terrence McNally's two-person play Frankie and Johnny in the Clair de Lune, the curtain rises on two people who have just reached this precarious position together. They've known each other for a couple of months, they work together, and after a successful dinner date, they've gone back to Frankie's for the full monty. At first, it seems like Frankie may be ready for Johnny to take off and leave her to the television and some ice cream, but he's not ready to go. In fact, he's just getting started.
What happens from that point on is what has made Frankie and Johnny in the Clair de Lune one of the most celebrated and frequently performed American plays of the past two decades. Bittersweet and romantic but shot through with dark veins of trauma and shame, the show makes both a daring yet somehow logical choice for the last production that Ensemble Theatre Company will perform in the tiny Alhecama Theatre before moving to the new Victoria Hall Theater next December. For director Saundra McClain, who will be familiar to Ensemble audiences as the force behind both In the Continuum and The Fantasticks, it's an opportunity she has been longing to get to. "It's not a concept play or a musical, so that's a change for me," McClain said, "but I love the naturalistic thing, and I relish the chance I'm getting to work on a show like this with two such great actors."
The play takes place in New York City in 1987, at the tail end of one of Gotham's edgiest and most turbulent decades. The two characters belong to what has since become a vanishing breed — working-class Manhattanites. Frankie, who will be played by Dee Ann Newkirk, is a waitress whose dreams of becoming a working actress are fading fast. Johnny, who will be played by Rick Gifford, is the more romantic of the two, but he's also carrying the heavy baggage that accompanies being an ex-con.
McClain describes what these characters are searching for as "not a last chance, but a second chance, a do-over." She calls the show a "fractured fairy tale," and praises the off angles the playwright has found from which to view this story of "two lost souls who find love in Hell's Kitchen."
Despite the intimidating sobriquet, Hell's Kitchen has lost much of it's original grit due to the thoroughgoing gentrification of midtown New York, but McClain, who once lived in the Manhattan Plaza complex on West 43rd and Ninth Avenue, remembers when this was not the case. "You knew you were nearing Eighth Avenue back then because you could smell it," she said, laughing to think of those simpler and grimier days gone by. "We're keeping it in 1987 because there are too many references to the times to bother taking them all out," said McClain, "but McNally's understanding of the human condition is timeless. Back then, people met in bars, whereas today they go on match.com, but what hasn't changed is that people are still out there trying to connect."
4•1•1
Frankie and Johnny in the Clair de Lune opens on Thursday, June 6, in previews and runs through Sunday, June 23. For tickets and information, call (805) 965-5400 or visit ensembletheatre.com.