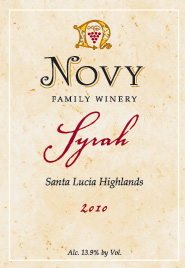 Novy Family Syrah Santa Lucia Highlands 2010: Unlike your typical New World juice-monster, fruit-bomb syrah, this creation by Adam and Dianna Lee (perhaps better known for their super Siduri pinot noirs) challenges the novice taster, with a pungent, tarry, even orange-peel-esque nose leading into a dirty, funky-forest-floor, moist-earth flavor.
The Lees' respect for regional variance is evident, as the cooler weather, Old World–leaning possibilities of this Monterey County appellation are on full display, giving hope for the eclectic future of California syrahs when put in the right hands.
We drank it in this paper's newsroom while watching the second presidential debate last fall, and while the wine's complexity was an interesting pairing for such political pandering, it might be better served with an herb-crusted roast of lamb, smoked-cheese pastas, or morel mushrooms in gravy.
See novyfamilywines.com.
Want your wine reviewed here? Email wine@independent.com.