Food & Drink
Debbie Lipp of Plantsmith
Growing Herbs, Scented Geraniums, and Potted Succulents in Santa Barbara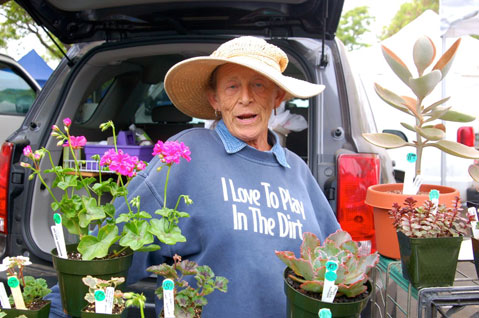 Name: Debbie Lipp
Farm: Plantsmith
Location: Private land in Santa Barbara.
What They Grow: More than 150 named varieties, including the unique copper spoon succulent, Echeveria or "Mexican Snowball" succulents, several types of the Aeonium genus, stellar geraniums, Pelargoniums (bloom 10 months a year!), bachelor button flowers, dwarf aloe, and popular herbs including pineapple mint and lemon thyme.
Where to Buy: Farmers markets, including Saturday in downtown Santa Barbara. Wine Cask restaurant also frequently purchases their herbs.
In Season Now: In addition to a wide plethora of culinary herbs and succulents, Debby Lipp also grows over 25 varieties of scented geraniums, including Tutti-Frutti, Lemon Crispum, and Chocolate Mint. These unique flowers have scented foliage, having evolved to keep away grazing animals. At the market, Lipp is happy to demonstrate their unique scents.
Their Story: A former chef and student of SBCC's landscape horticultural program, Debbie Lipp has been selling herbs and succulents since the late 1980s.
"I moved to Santa Barbara back in 1971. I'm a naturalized citizen of Santa Barbara!" said Lipp. "I needed a project for a work experience class … and never looked back."
Most of the succulents sold are from cuttings, started in small pots. In addition to growing well-rooted plants, Lipp ensures her plants are healthy by investing time and money on the health of the soil.
"If you feed the soil, the soil will feed your plants," said Lipp. "Do not buy cheap soil! Be good to your plants, and be careful not to overwater. It is the single greatest cause of house-plant death."
When caring for succulents or herb plants, they each require different types of soil. Succulents need leaner and coarser soil — soil that does not hold water and is low in nitrogen. Herb plants, however, need a more balanced soil, which is why Lipp puts in kiln-dried worm castings.
"Doing a market takes a lot of work, but I am very knowledgeable about my plants," said Lipp. "I always have names on them; it's important to me that the customer understands what the plant needs, from where they came from to how much water they need."
Highly informative, Lipp holds a commercial nursery license and is eager to spread her knowledge to others. With succulents from all over the world, Plantsmith offers great variety for both new and seasoned gardeners.
"The market is a great way to meet like-minded people that love what I love," said Lipp. "It's a chance to live at the Farmers Market for a few hours!"