Announcement
The New Lucky Penny Rallies Youth to Raise Funds for Santa Barbara
Over 25 Volunteer High School Students Create Penny Tiles in Fundraising Effort for Three Santa Barbara Charities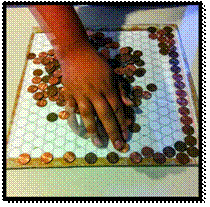 Local youth groups from Future Leaders of America, Multiple Sclerosis Society and Youth Interactive, teamed to donate their time to help raise funds for these three non-profits that serve Santa Barbara.
Lucky Penny General Manager Dan Russo states, "Pennies matter – We may walk over them on the street but put a bunch together and see the value they can create. In this case, we were able to make a significant contribution and illustrate that there is certain value in every penny."
Individual donors from the community matched Lucky Penny's contribution resulting in a $1K gift to each of the three organizations.
The volunteers will join the charity leaders this Friday, June 28, 2013, to receive their donation from the Lucky Penny team, including owner Sherry Villanueva, General Manager Dan Russo, Executive Chef Jason Paluska, Sous / Pastry Chef Nick Flores and Special Projects Directors Katy Villanueva and Greg Cusack. Ongoing, Lucky Penny will donate a portion of its profits to community organizations throughout Santa Barbara through its Lucky Penny Foundation.
WHEN: Friday, June 28, 2013
11:00 a.m.
WHERE: Lucky Penny
131 Anacapa Street
Santa Barbara, CA 93101
WHY: The mission of Lucky Penny is to provide not only quality food and ambiance, but to bring together the community and celebrate the diversity of Santa Barbara. It is the goal of the Lucky Penny to offer warm service and good will as a gesture of thanks to the people that support the business.
ABOUT LUCKY PENNY: The Lucky Penny is a standalone take-out restaurant in the midst of the Santa
Barbara Funk Zone, featuring artisanal pizzas from a wood-burning oven, hand-crafted coffees, and house-made baked treats. The grand opening is scheduled for mid-July, 2013