Announcement
New Spiritual Garden in Montecito Honors Life of Inventor Roy Mankovitz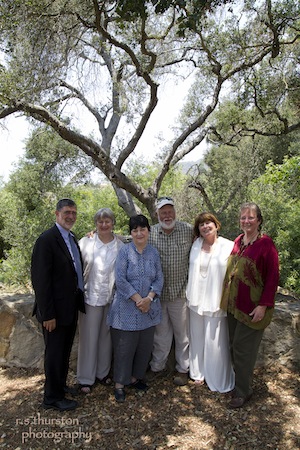 The Shalom Garden at La Casa de Maria retreat center was built with a gift from Kathleen Barry to honor her late husband, Roy Mankovitz, who had careers in rocket science, law, engineering and health care. As an entrepreneur and inventor, Mankovitz is named on more than 60 patents.
After selling his electronic patents to a consortium funded by Fortune 500 companies, Mankovitz concentrated for the next two decades on ways to prevent illness and promote health. His interest in health education led him to fund research at UC Santa Barbara's Department of Molecular, Cellular, and Developmental Biology. He died suddenly July 10, 2011, in Montecito, where he lived since 2004 with his wife of 23 years.
At the June 30 dedication, family and friends spoke a bit about his inventive and scientific mind, but more of Mankovitz's sense of connectivity between nature and spirituality.
"As we build this garden we are aware of his abiding presence and his love of La Casa de Maria," Barry said at the Sunday afternoon dedication attended by about 100 family and friends. Some helped plant a grapefruit tree in the garden in Mankovitz's memory.
The 1/3-acre Shalom Garden honors the Jewish spiritual tradition. The plant materials are based on the traditional seven species mentioned in the Bible's Book of Leviticus: barley, grape, pomegranate, olive, date and fig, said designer Marshall Chrostowski. These will be supplemented by other flowers and herbs mentioned in the Torah, he said.
The Shalom Garden will have a spacious area where community celebrations and gatherings can take place, said La Casa de Maria director Stephanie Glatt.
"We look forward to having the Jewish communities who come to La Casa use it for gatherings, prayers, rituals and celebrations," Glatt said. "And we hope that new communities will find this a home honoring their tradition."
Mankovitz wrote "A Rocket Scientist's Blueprint for Health," a book of his theories on the prevention and reversal of illness. The book offers a blueprint for health based on using nature as the template and includes a diet plan, detoxification program and suggested changes in lifestyle.
Mankovitz was director of Montecito Wellness LLC, cofounded with Kathleen Barry, and was a board-certified holistic health practitioner. He served on the boards of several health-related organizations, including the Price-Pottenger Nutrition Foundation.