Drink
New Digs for Dragonette Cellars
Makers of Fine Pinot, Sauv Blanc, and Syrah Move to Buellton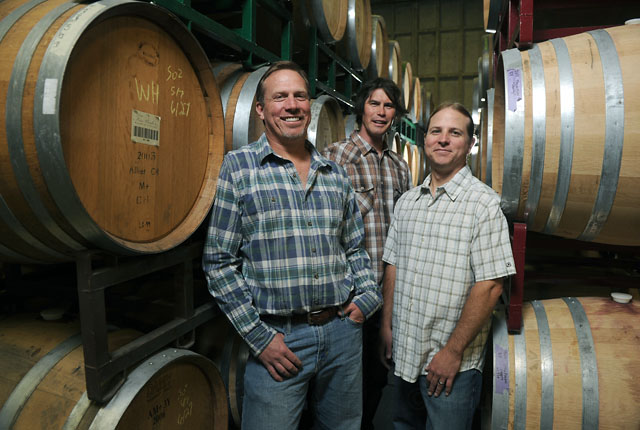 While studying geology in Italy during a summer in college in the late 1990s, Washington state native Brandon Sparks-Gillis found grapes more fascinating than rocks, and started working on the production side of the wine industry upon returning to the West Coast. But it wasn't until he ventured into retail — a strategic move, he said, to "calibrate his palate by tasting the best of the best" — that his winemaking vision came into full focus.
On his first day at Wally's Wine & Spirits in Westwood, Sparks-Gillis met John Dragonette, an attorney who was also picking up shifts there for educational purposes, and the two hit it off. "We had really similar ambitions," said Sparks-Gillis. Both were both interested in the same grape varietals and agreed that the most promising place to plant their dreams was Santa Barbara County. Sparks-Gillis explained, "There are few places in the world where you can grow sauvignon blanc, pinot noir, and syrah in a 20-mile radius and be world-class."
As they dove deeper into winemaking and grape-growing — Sparks-Gillis for Demetria and Sine Qua Non, Dragonette for Fiddlehead and Coastal Vineyard Care — they launched their own label with the help of John's brother, Steve, making their first barrel in a Hermosa Beach garage. By 2008, Dragonette Cellars was a full-time gig in a warehouse on the western outskirts of Lompoc that they shared with Ampelos Cellars. But it wasn't until earlier this year that the Dragonette team took their most courageous leap yet: signing a lease on their very own winery, an 8,000-square-foot facility on a dead-end road in Buellton, next to a bustling autobody shop and within the same thick concrete walls that once housed such historic efforts as Sanford Winery and Zaca Mesa.
"We're right in the middle of it all," said John Dragonette, whose new location is centrally located from the various vineyards they source for their wines. And those vineyards are the key to Dragonette's soaring success, as the team has slowly built strong relationships with properties of distinction, from Vogelzang and Grassini in Happy Canyon (where they get a lot of sauv blanc) to Stolpman in Ballard Canyon and Thompson in Los Alamos (syrah) to La Encantada, Fiddlestix, Sebastiano, and Zotovich in the Sta. Rita Hills (pinot). The Dragonette team stays as intimately involved with the farming as with the winemaking, and the arrangements tend to be hand-shake deals, said Dragonette, explaining that mutual trust and respect are what counts. "In reality, [vineyard contracts] are only as good as the relationship you have anyway," explained Dragonette.
Every year, Dragonette releases about 4,000 to 5,000 total cases of 10 wines, usually featuring three to five pinots, two to three sauv blancs, one to two roses, and two to three Rhone blends of syrah, grenache, and mourvedre, including the annual "Seven" blend (named after the seven sourced vineyards and the seven family members who toil on the project) and "MJM" (a signature bottling named after their wives' first initials). Those latter wines reveal how tight-knit the project really is, as Sparks-Gillis explained, "Our families are hands-on every step of the way."
With their own vineyard a far-off goal, Dragonette Cellars remains on the hunt for new opportunites as well, such as their recent deal for fruit atop the highest ridge of Radian Vineyard, a wind-battered patch of diatamaceous earth located right next to Lompoc. "It looks like the moon," said Dragonette, and it only yields about three-quarter ton an acre, about half of many other high quality pinot blocks in the region, making for just 50 cases. "It's our wine geek wine."
From such tiny bottlings to the barrel-aged sauv blancs, reliably fresh pinots, and tantalizing Rhone blends, the Dragonette portfolio is as exciting, flavorful, and well-considered as anything going on in the Santa Ynez Valley right now. So does the new spot mean that they will be producing more wine in the future to keep up with the high demand? Said Sparks-Gillis, "Time will tell."
4•1•1
Dragonette Cellars is the featured winery at the July 10 BYOB sauvignon blanc dinner at Max's Cucina. See maxsrestaurantsb.com. Their tasting room is located at 2445 Alamo Pintado Ave. in Los Olivos. Call 805-693-0077 or see dragonettecellars.com.