Visual Arts
Review: Labour and Wait at the Santa Barbara Museum of Art
An Art Fair in a Museum Through September 22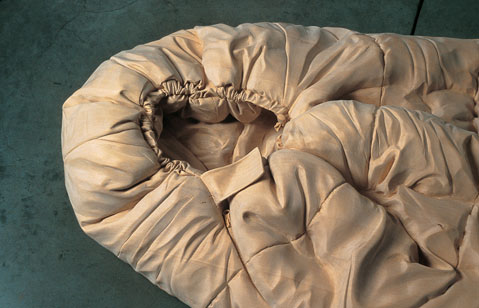 Ceramics, woodcarving, tapestries — this must be the museum's medieval art collection. Well, look again because in the Santa Barbara Museum of Art's fascinating and provocative new exhibition titled Labour and Wait, these traditional media have undergone a radical transformation. From L.A. artist Ricky Swallow's "Sleeping Range" (2002), a life-sized mummy-shaped sleeping bag painstakingly carved out of a single large block of wood, to Turner Prize–winning British artist (and sometime cross-dresser) Grayson Perry's exquisitely finished and irreverent ceramic vases, Labour and Wait brims with surprising collisions of form and content.
By drawing together the work of 16 contemporary artists and artist collaborations from several countries and continents, SBMA curator Julie Joyce makes a case for the centrality of an "artisan avant-garde" in the development of early 21st-century art. More than the elaboration of a particular trend, Labour and Wait puts the assumptions that distinguish high art from craft, and craft from "mere" labor to the test. The result: SBMA's three large galleries recast as a bustling summer art fair, stylistically diverse yet unified, and delivering a single strong message via a wild chorus of 16 different voices.
Although the title of the show comes from a poem by the 19th-century American poet Henry Wadsworth Longfellow, Joyce admitted that the real inspiration for the name came from a trendy London retailer specializing in faintly nostalgic industrial-type home and garden tools — a kind of Restoration Hardware for the Carhartt set.
This context is important, as one of the pleasures of this abundantly satisfying exhibit lies in how effectively it taps into our current collective craving for functionality and craft. Anyone who has lingered over the heft of a well-made hammer, or savored the density of selvedge denim will find a lot to like in Labour and Wait, which revels in the tactile. (Guests at the opening reportedly had a hard time keeping their hands off the wooden sleeping bag.) But apart from conjuring the sensual aspects of shopping for cool tools, the title Labour and Wait serves as a useful mnemonic for the principles and concepts of craft that are woven into these works.
"Labour," for example, not only implies the hard work required by the DIY aspects of what's on view here but also, through that self-consciously Anglophile spelling, refers to economics and politics. In an era when the international art market has achieved an unprecedented level of identification with hedonistic materialism, much of what's on view in Labour and Wait acts as a defense against the overwhelming commoditization of the fine art experience. Such is the subject of "You Are Here," a 2011 ceramic vase by Grayson Perry. The figures on this magnificently hued and wrought object are each accompanied by a thought or speech bubble, indicating some level of involvement with what one imagines to be a blockbuster museum art show. "This is way cool," remarks one young man, while nearby an Oxbridge intellectual in a three-piece suit murmurs to his smartphone, "It's the kind of thing people like me go and see."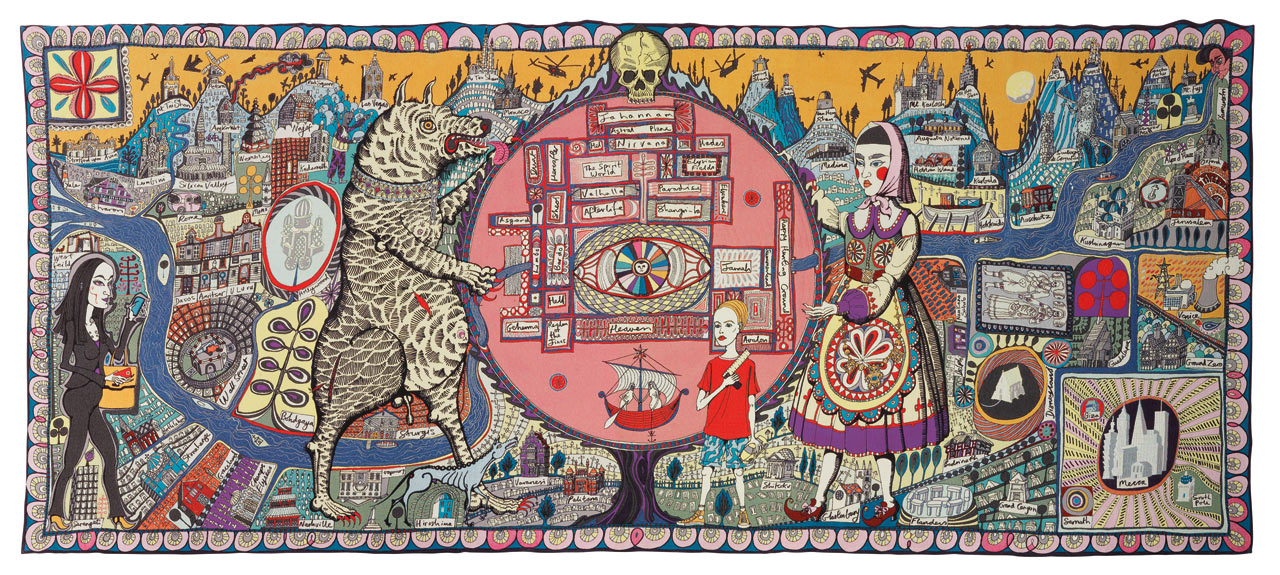 Perry, who will be in Santa Barbara to give a public lecture at the SBMA on Sunday, July 28, at 2 p.m. is one of the most important artists working in Britain today. In England — especially in his drag persona "Claire" — Perry is as recognizable as a pop star. In addition to his ceramics, the show includes an impressive Perry tapestry from 2011 called "Map of Truths and Beliefs." For scale, scope, art-historical sophistication, and sheer audacity, Perry's "Map" tops nearly anything I've seen this century. Its central figures are Red Riding Hood and a wolf, and together they hold an oval-shaped emblem bearing the plan of the British Museum. Using the same fine weavers of Ghent who fabricated John Nava's giant tapestries for the Cathedral of Our Lady of the Angels in Los Angeles, Perry has organized an abundance of images and ideas into a viewing experience that's thoroughly absorbing. Like a labyrinth, this slantwise celebration of the museum as a source of truth and belief draws you in and turns you around and around before letting you find your own way out.
Much the same is true of what's next door — the film The Way Things Go by Swiss artists David Fischli and Peter Weiss. This mesmerizing examination of causality takes the old idea of the Rube Goldberg machine and turns it into a thrilling adventure full of suspense, wonder, and even pathos. For half an hour, fuses burn, tires roll, water and other fluids cascade, weights drop, and levers release in an unrelenting stream of physical causes and effects. If you have ever fantasized about creating one of these contraptions, then by all means get to the SBMA and see this one because it will forever alter your perception of what's possible. The film, which has served as a point of departure both for this exhibition and for an entire generation of artists interested in working with the kinds of materials available in Home Depot, operates on many levels and rewards multiple viewings.
Following the craft principle of saving the scraps and using them for something, it's possible to see even the "and" in the exhibition's title as part of its message. Many of these artists embrace an inclusive aesthetic, one that applies the improviser's "yes, and" habit of response to cross over the boundaries of "no, but" that ordinarily separate fine artists from the public. Chicago artist Theaster Gates, represented here by a pair of his custom cabinet creations, "Soul Food Starter Kit" (2012) and "Dinner with the King" (2012), has done just that in his primary endeavor, the Dorchester Projects on Chicago's South Side. In 2009, Gates purchased vacant buildings and began enlisting his neighbors to remodel them as community libraries, workspaces, and common rooms. The artist describes the wooden chests on display at the SBMA, which are made from discarded scraps found on the Dorchester Avenue properties and are filled with the African-American pottery Gates calls "soul ware," as "part fancy bento box, part big country pantry."
This leaves what is paradoxically the most volatile term of all: "Wait." This makes sense as all the work here shares a certain down-to-earth stance toward the future. These artists are ready to face whatever apocalypse or utopia might be next because they have found, either through their adoption of a right livelihood or through some astonishing break with the logic of the same, a way to labor and to wait.