Columns
Labyrinth of Calm
A Contemplative Spot Overlooking the Pacific
In Isla Vista peace has descended. Many of the residents have moved away for the summer, and there are fewer parties, and much less noise. It's a time that both older and younger residents can appreciate. Most of life is conducted out of doors, and the beach is spectacular.
The rest of the world, however, isn't having this same type of experience. Every day there is another tragedy. One day it's the war in Syria. Another it's school children poisoned by insecticide in India. And on another a bomber is immortalized on the cover of Rolling Stone magazine. It doesn't matter whether the people affected live in our community or across the world, their pain feels very real all the same.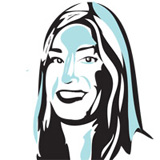 On a day, when I felt particularly weighted down by the problems occurring both near and far, I walked down the beach near Campus Point, got off track, and stumbled upon the Lagoon Labyrinth located on the UCSB campus. I had written about it when it was first designed a couple of years ago, but I had completely forgotten about its existence.
I peered through the tall plants that had grown up in the area and took a look at this circular path. While I was looking in, a person walked by and quietly started to walk the labyrinth. He didn't look self-conscious or embarrassed, but focused on what he was doing. He was using the labyrinth exactly as it was intended — to bring about a meditative state and become more in tune with his surroundings.
The Creation of the Labyrinth
Carol Geer, who was the director of Counseling and Career Services and executive director of Student Development Services before she retired, was the person who made the labyrinth a reality. It took two months to build and is perched on the bluffs overlooking the ocean in a spot ideal for contemplation.
Greer said in a press release, "When a person walks the labyrinth, he or she finds a place of calm that allows meditation, reflection, and rejuvenation. The beautiful location of the labyrinth –– on the bluff above the Pacific Ocean –– invites an appreciation of nature in a very special way. There are sights, sounds, and scents of nature that have tremendous restorative power."
The History of Labyrinths
By chance, I read a book recently that discussed the historical significance of the labyrinth. It was used as part of religious rites. It was fascinating to find out about all the different types of labyrinths found in Europe and around the world and the significance of each.
Growing up, I had looked at labyrinths as a type of maze, or game. It wasn't until later on that I learned about their use as a tool for spiritual development. In some cases, people used labyrinths to make symbolic pilgrimages, without leaving their local area.
While people in Isla Vista live in a type of paradise, there are times when the rest of the world, or everyday problems, intrude. Then, it's time to head to the beach, or the local labyrinth, to refocus your energy. While contemplation and meditation may not directly solve all social problems, it's one way to get yourself back on track.