News
Fiesta Cruisers in the Crosshairs
Cops Dole Out Dozens and Dozens of Tickets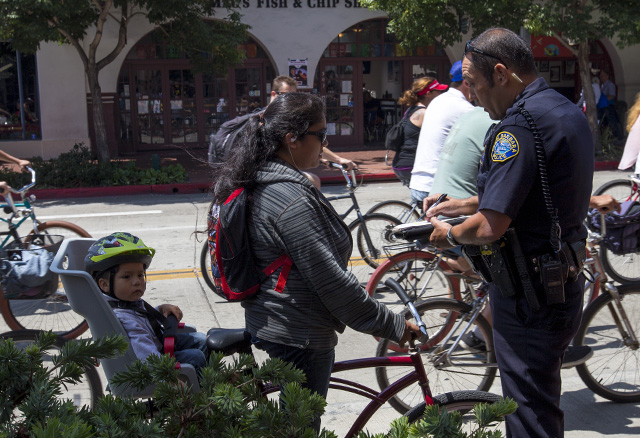 The police followed through on a promise to ramp up enforcement of the Fiesta Cruiser Run bike ride this year, assigning 20 officers to the unsanctioned event and handing out 72 citations ​— ​64 for traffic violations and 12 for municipal code violations. The sheriff also assigned six deputies to the annual bike ride, which leaves from Stearns Wharf and ends in Isla Vista. According to preliminary numbers, said spokesperson Kelly Hoover, the Sheriff's Office issued five citations.
Police were stationed at every intersection on lower State Street, making sure that nobody ran red lights. Cyclists largely obeyed traffic signals, but there were plenty of scofflaws to pick off. In years past, the ride moved through intersections uninhibited, whereas the police presence this year thinned and elongated the mass.
Participants could be heard complaining that at least bikes don't leave poop in the street, but as a word-of-mouth event, the cruiser ride is not permitted. Police spokesperson Sergeant Riley Harwood suggested that the department would help organize the event if somebody ever filed for the proper permits and took responsibility for planning. "I also think there [are] a lot of people in the community who would probably want to support this event more openly than they do other Fiesta events, and would be inclined to do so if it was officially sanctioned," he said. "But people aren't going to put their names behind things that are going to potentially involve serious violations of the law."
During Fiesta overall, crime was down, although vehicle infractions were up 40 percent from last year. Felony arrests dropped from 48 to 34, misdemeanor arrests plummeted from 170 to 78, and DUIs fell from 22 to 14. Nobody was arrested for felony DUI the last two years. The Santa Barbara Police Department employed 135 officers ​— ​75 of its own, 26 Sheriff's deputies, and 34 who were contracted from other agencies. It budgeted $420,000 for Fiesta. Because the Cruiser Run is not an official Fiesta event, it is not included in that budget.