Arts & Entertainment
Review: Orange is the New Black, Season One
Going Behind Bars with the Latest Netflix Sensation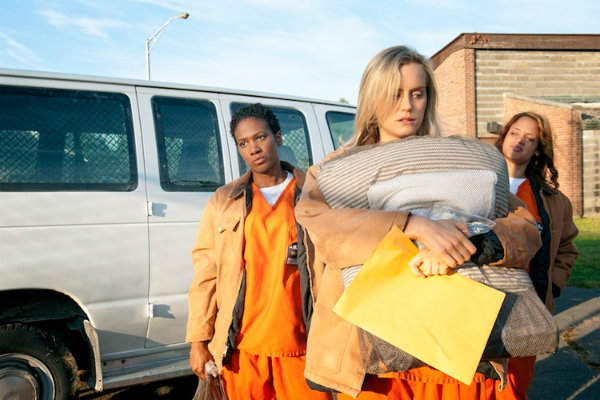 Prison isn't exactly a new setting for television shows. In many programs, characters bounce in and out of lock-up, and the threat of incarceration plays a major role in the motivations of heroes and antagonists alike. The overwhelming majority of network television features crime as a significant plot device, if not the entire premise. So, it's not remarkable in and of itself that Netflix's original series Orange is the New Black is set almost entirely in a low-security women's prison. What is remarkable is that crime has very little to do with it. Nearly every character has committed a crime, but there is no suspense in the frequent flashbacks that show the audience their lives before the jumpsuit — we know where these women end up.
Of course, there is drama — screwdrivers go missing, sadistic guards torment inmates, and prisoners harbor feuds. The show is a dramatized version of real-life inmate Piper Kerman's best-selling memoir of the same title; there is romance, infidelity, scheming, and occasionally violence. But at its core, Orange is the New Black is not a show about crime; it's a show about responsibility. Many characters struggle to accept the responsibility for the crimes that put them in Linchfield; others find themselves at odds with situations of their own making inside. Our introduction to the series' themes is Piper Chapman (Taylor Schilling), a privileged, white college graduate sentenced to 13 months behind bars for her involvement in a drug ring run by her then-girlfriend, Alex Voss (Laura Prepon), 10 years prior to the show. Schillings character is the vehicle that drives the plot, but for much of the show, she is the least interesting part of it. In some respects, the series shares many similarities with creator Jenji Kohen's previous small-screen hit, Weeds. In both programs, a middle-class white woman is stripped of many of the entitlements that have previously made up her identity and thrown into a desperate world of colorful, troubled characters. And I'll admit — while Schilling's portrayal of Chapman is gratingly naïve, vapid, and self-centered at the beginning of the series, her character development in the latter portion of the show's 13-episodes is satisfyingly raw and genuine. While Chapman's deconstructive character arc becomes more and more intriguing, it's a pity the realities of television demographics necessitate a white, middle-class lead for audiences to relate to.
Fortunately, Chapman's incarceration is a perfect introduction into an extremely talented and diverse supporting cast, who bring with them themes, issues, and relationships few other shows will touch. There's "Red" (Kate Mulgrew), the Russian-mafia-connected matriarchal head of the prison's kitchens; "Big Boo" (Lea DeLaria), a tough, self-assured lesbian with possessive tendencies; and Sophia (Laverne Cox), the transgender woman struggling to reconnect with her son who runs the prison's hair salon. There are junkies, murderers, thieves, religious freaks, former track stars, and yoga instructors; they are black, white, Asian, and Latina. And the best aspect of Orange is the New Black is its multifaceted portrayal of these characters. With some minor exceptions (your only Asian character speaks very little English and only serves as comic relief, come on now), the show refrains from pigeonholing any of its cast into a stereotyped caricature. Sophia, one of my personal favorites, is the holy grail of network TV — a transgender character (and a minority at that!) thoughtfully portrayed by an actual transgender actor and not lampooned or marginalized. (Also notable, CBS's fledgling Sherlock Homes re-imagining, Elementary, features Candis Cayne as a fabulously smart and fierce transgendered Mrs. Hudson) Similarly, the show does not shirk from topics of race, sexuality, and womanhood — there are plenty of nuanced portrayals of black and Latina femininity and strength. The prison's guards and administrators are far from one-dimensional as well — even the most despicable antagonists, like the violently misogynistic drug-dealing "Pornstache" Mendez have human touches added to them throughout the course of the first season.
Despite the serious subject matter, the show retains a sense of humor. While the jokes and gags are funny and often times silly, they remain relatively grounded without devolving into farce, one of the double-edged swords of Weeds. The cast is funny and smart, and the myriad of storylines and back story keep the show's full-hour episodes flowing. That being said, Netflix's shows are subtly changing the way we watch TV. Like its predecessor in online-only drama House of Cards, Orange is the New Black's 12+ hours of content is prime for binge-watching. The pacing of individual episodes can be halting — while the serialized storyline is strong and individual moments keep the action moving, the show drags its feet in the middle episodes if the viewer doesn't push through in a tempest of couch-bound compulsion. Although the ensemble cast is well portrayed, there are some narrative arcs that seem heavy on exposition and light on development or growth, including that of the main character. However, as the action ramps up to a delightfully vicious conclusion, Orange is the New Black's flaws are forgiven — there are plenty of storylines left open for the show to serve well with hard time in the following seasons.
All 13 episodes of Orange is the New Black are available exclusively on Netflix Instant.