Theater
Macbeth at UCSB
Naked Shakes Takes to the Big Stage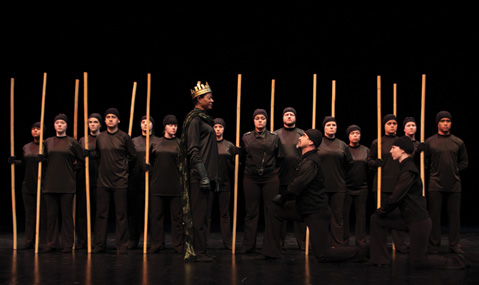 At 6 p.m. on a Monday in late August, not all the students at UCSB are headed to the dorms or to the dining commons. On the big stage inside the school's Hatlen Theater, the 16 undergraduates who make up this year's Naked Shakes program are warming up, and it's not your usual stretching and vocal exercises. Instead, these actors, who are wearing all black, right up to the stretchy black hoods on their heads, are handling six-foot wooden staffs. Theater faculty member Jeff Mills leads the routine, calling out strike targets — "shoulder, leg, shoulder, flank, flank, head, groin" — and when he moves to a big drum downstage right and begins pounding out a rhythm, the students pair off and fight, their staffs smacking together in rough synchronization.
As they stop to catch their breath after the first round, choreographer Christina McCarthy offers this note: "Aim for those strike points! I'm seeing sticks aimed at other sticks, but that's not it. When you swing for the head, swing for the head, not the other staff." Is this a training program for ninjas?
No, the rehearsal is for director Irwin Appel's new production of Shakespeare's Macbeth, and Jeff Mills, in addition to teaching stage combat, will play the title role. He will be joined by Michael Morgan, the theater department's professor of speech, who will play Duncan, and by the 13 women and three men of Naked Shakes, a summer-long immersion in one of Shakespeare's plays that Professor Appel, the director of the UCSB BFA Actor Training Program, has been leading since 2006.
Stripped of all but the most essential props and costumes (hence the "Naked" part), these productions focus on presenting the energy and action of Shakespeare's language in its most raw, vibrant, and exciting form. In previous years the program has mounted its outstanding productions of Shakespeare classics The Merchant of Venice, Measure for Measure, and Romeo and Juliet in the relative intimacy of UCSB's Performing Arts Theater, but this season the show moves to the larger, proscenium-style Hatlen across the way.
In part, the switch to a bigger stage reflects Appel's desire to accommodate the boldly expressive movement of fight sequences such as the one I witnessed in rehearsal, but underlying that logistical consideration is a deeper sense that in this season Naked Shakes will move a big step closer to the core of the UCSB Theater season. In the spring of 2014, Appel will return to the Hatlen with a production of Equivocation, a contemporary work by playwright Bill Cain that explores the Gunpowder Plot, an unsuccessful insurrection against James I, and its impact on the composition of you guessed it — Shakespeare's Macbeth.
This one-two punch of Shakespeare and his world aims straight for the heads of incoming UCSB first-year students, as Macbeth, which will be performed over two weekends — Friday-Sunday, September 6-8, and Saturday-Sunday, October 5-6 [tk] — is a required part of the University's Freshman Experience program. "We want to turn this whole incoming class on to the ways that we as a department think about Shakespeare," Appel told me, "so we're going into the Hatlen, which gives us the looming darkness of a medieval castle, and we're taking with us the spirit of anarchy that we enjoy in stuff like Breaking Bad." "We're big fans of Breaking Bad around here," added Jeff Mills.
The choice to use faculty actors alongside the students in this Macbeth represents both a departure from previous seasons of Naked Shakes, which relied on all-student casts, and a continuation of the trend toward faculty collaboration onstage that can be traced back to Risa Brainin's Launch Pad program, in which faculty members Appel and Anne Torsiglieri have appeared. Michael Morgan, whose performance as the father in Jeff Mills's production of Sara Ruhl's Eurydice was one of the spring 2013 theater season's highlights, praised the student cast of Macbeth, saying that he loved "the adrenaline rush of being onstage with them," adding with a laugh that "sometimes, to be ready for rehearsal at 6, I need a nap."
For Jeff Mills, the player/coach role harkens back to his work with Boxtales, the movement-forward Santa Barbara theater group in which he has worked with Michael Andrews, Matt Tavianini, and scores of other talented Santa Barbarans. For dedicated theatergoers, one of the great pleasures of this production will be to observe another impressive instance of stylistic cross-pollination, as Mills brings the acrobatics of Boxtales into contact with the speech act–centered classical stage universe created by Irwin Appel.
But what about Macbeth? In case you were home sick that month of 10th-grade English, it's the one with the witches who influence a man and his wife to conspire to kill the king. There's blood, guts, ghosts, and plenty of overwhelmingly beautiful poetry. Traveling in and out of darkness, the play traces a man's journey toward ultimate nothingness, and it revels in the intensity of his perception of what he has lost.
4•1•1
Macbeth will be at UCSB's Hatlen Theater Friday-Sunday, September 6-8, at 7 p.m., and on Saturday, September 7, at 2 p.m. Admission for this weekend's performances is free. Macbeth will return on Saturday-Sunday, October 5-6. For more information, visit theaterdance.ucsb.edu or call 893-7221.