Briefs
Summerland Meth Arrest
Fugitive Found Hiding in Plain Sight in Montecito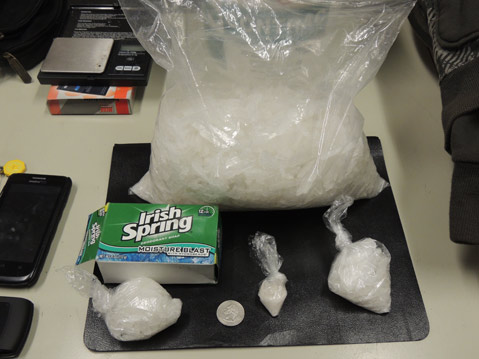 Following a yearlong investigation, Santa Barbara County Sheriff's Narcotics Detectives arrested an alleged methamphetamine dealer in Summerland on Tuesday.
Alejandro Jaimes Lopez, 30, had fled to Mexico over a felony warrant for his arrest in a prior case involving more than three pounds of methamphetamine, but he had recently returned to the area. After learning of his arrival, detectives located Lopez at Lookout Park in Summerland, at which point the detectives contacted him and arrested him. In the car Lopez had driven to the park, detectives found approximately two pounds of methamphetamine, with a street value of about $24,000. Detectives later found an additional ounce of the drug — hidden in an Irish Spring soap box — in Lopez's car parked at a Montecito home.
Lopez had worked as a landscaper for an elderly Montecito couple and had been using the couple's yard — unbeknownst to them — to conceal the methamphetamine, detectives discovered.
Lopez was booked into Santa Barbara County Jail on $250,000 bail. He faces charges of possession and transportation of a controlled substance for sale and the outstanding felony warrant.