News
Boulder Canyon's McGuire Spring (and Reyes Peak)
Two Short Day Hikes
Hikes: Two short day hikes from Pine Mountain Road: 1. To McGuire Spring, and 2. To Reyes Peak itself. Suitable for children aged five and above.
Mileage:7 up-and-down miles above 6,000 feet; in two trips each about three plus miles.
Time: 4.5 hours driving, and about 5 hours hiking steadily with some very steep ascents, including one hour eating a good lunch atop Reyes Peak itself (7514 ft. beside the Sespe Wilderness proper)
Maps: The Tom Harrison Sespe Wilderness Trail map is easiest to read; be sure to take this one with you and a compass or GPS; Craig Carey's Hiking and Backpacking Santa Barbara and Ventura shows McGuire Spring as Route 73 (with his Map 18), p. 299
When sallying forth in search of pure personal water sources one always endeavors to partake of the pristine elixir itself—and why not?! The gulping of this liquid essence from Gaia's body embodies the thing-in-itself (the Ding-an-sich). Various earlier Hiking the Backcountry columns bragged about earning "tasting rights" at nearby glorious springs like Little Pine, Hidden Potrero, Nineteen Oaks, Mission Pine, and McKinley, naming just a few. Thus, in early October when Guru Franko and I finally located obscure McGuire Spring nestled in Boulder Canyon we dearly wished to sup from Nature's dark fastness.
We planned two fairly easy dayhikes to split up our time on the slopes of 6,600 ft. Pine Mountain (Boulder Canyon is on the north side) and neighboring Reyes Peak. This trip, including almost five hours driving, concludes a series of backcountry endeavors to learn and drink from all the springs on these two tall mountains behind Ojai: Chorro Grande Spring, Raspberry Spring, and now tiny McGuire Spring.
After driving to Ojai and taking the Pine Mountain Road turnoff (see driving directions: http://www.independent.com/news/2013/sep/03/chorro-grande-springs-and-reyes-peak/), Guru Franko drove about 4.8 miles on the new asphalt tarmac to dusty Pine Mountain Camp, a car-camping area beneath conifers with four tables and five nice sites. Unfortunately, it was closed because of the federal government's stupid "shutdown," but then we noticed several intrepid Americans had driven around the closed sign and were camping there anyway – how cool.
Parking on the road opposite this closed entrance, we got out with Franko's white Lab, Gina, and embraced a howling wind with the temperature around 42 F. Even though it was 6:30 a.m. on a weekday morning, several cars were heading home, and we figured the vicious wind and cold forced them out.
Boulder Canyon Trail begins here as the well-wrought sign attests, and various maps have McGuire Spring and Camp between 0.8 and 1.2 miles down this beautiful trail, which ends at Highway 33 again beside the Ozena Fire Station. My goal on the first short hike was to follow the steep and splendid coniferous path down to the McGuire Spring turn (a left), but this spur trail was difficult to spot and we passed it as the Boulder Canyon Trail dropped precipitously.
The trail wends its way between classic stands of massive sugar pines as well as Jeffrey pines, mixed oaks, and some hard chaparral. While thickly forested, we often caught enchanting glimpses of Cuyama Peak in the distance as well as the ubiquitous San Emigdio badlands. This high alpine landscape captures your full attention with the fragrant conifers and pine-needle floor (it's slippery!). The massive Jeffreys and views east down into Snail Canyon compel your vision to focus intently: Here is Beartrap Camp and Reyes Creek and Camp Scheideck in the dense green canopy far below that conceals the Gene Marshall-Piedra Blanca Trail. We encountered fresh bear tracks and mounds of bear scat all around.
We turned around after descending two miles, certain we'd missed the McGuire Spring spur trail turnoff, and on the way back up barely spotted it–there's a very small white cylinder tied to a 4-foot high scrub oak bush. Then it was an easy traverse over 0.4 mile to rugged McGuire Camp (6,000 ft.). It's a rough and steep site without any level tent-spot for overnight camping, but the spring itself was still flowing a bit despite our two-year drought. In the photo of the spring you see half of the wooden box removed, with bright blue October sky reflected in the rectangular pool along with a tree trunk. I strongly recommend filtering the water, although admittedly brash I made sure to wet my lips with the Mother's elixir and ingest a bit of true Vitamin N.
Returning to Franko's truck at the top of the ridge–this is the Pine Mountain massif as it stretches eastward toward taller Reyes Peak–I realized yet again how one of Nature's most alluring features is her unpredictability, just as one of her most frightening aspects is her uncertainty. We had believed the weather forecast for the area, moderate wind, but as we returned to the top at the truck we met gale force driving zephyrs, and I at least had no long pants or even a heavy jacket. With the wind chill, we think it must have dropped to 25-30 F.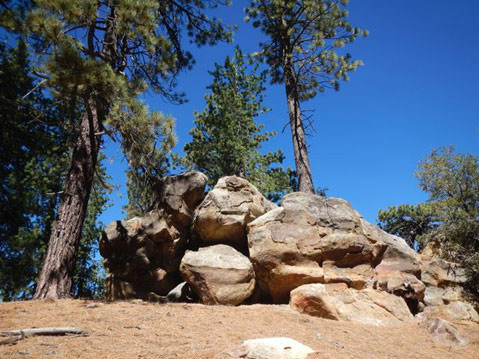 After re-entering the truck, we continued driving a couple miles farther east on Pine Mountain Road, the asphalt ends after Reyes Peak Camp, and we parked where the road ends at the fairly new restroom there. All along the road we are right at the southern border of the Sespe Wilderness. Our second 3.5-mile dayhike began here and we hiked along the stupendous ridge overlooking the San Emigdio badlands and mesa to the north; turning 180 degrees we enjoyed outlandish vistas back toward the coastal range, with the faint white marine layer obscuring Santa Cruz and Santa Rosa Islands. There are staggeringly lovely rock formations in this area perfect for bouldering.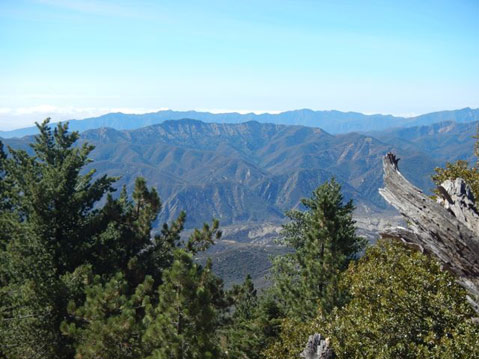 Once atop the summit of 7,500 ft. Reyes Peak (not the burnt-down fire lookout in front of the plain top) we could look back and finally see the shape of Pine Mountain itself. Guru Franko showed me a fairly short bushwhacking route down the north (backside) of Reyes Peak that led us to intersecting with the Reyes Peak Trail, which drops down almost six miles to Haddock Camp on Piedra Blanca Creek inside the Sespe Wilderness. From this trail we headed back up to his truck, and then the 65-mile drive home to Santa Barbara after a doubly exciting two-hike day.
Mother Gaia, mother nature, calls out for us to love her uncertainty: sacred spring, howling winds, government shutown, ecstatic canine… the Portuguese poet Fernando Pesso writes about "the caves of withdrawal from the world [where] I gild myself with the impossible sunset of high and vast hills in the distance."