Briefs
Elisa Karhu Shatters Women's Marathon Record
The 21-Year-Old Pre-Med Student Finished in 2:42:42
Elisa Karhu was afraid she might blow up, but the only thing that was exploded by her fast pace in the Select Staffing Santa Barbara Veterans Marathon on Saturday was the women's record. Karhu, a 21-year-old pre-med student at UC Berkeley, finished the 26.2-mile race in 2 hours, 42 minutes, and 42 seconds, almost six minutes faster than the former record (2:48:34) set by Paige Higgins last year.
"I kind of freaked out halfway when I saw how fast I'd gone out," Karhu said. Her time at the 13.1-mile mark was 1:18:56, which was much faster than any woman running the Veterans Half Marathon. Battling a breeze on Las Positas Road and the demanding Cliff Drive hill, she slowed in the second half, but not enough to deprive her of the record when she finished on the La Playa Stadium track. Only two male runners finished ahead of her.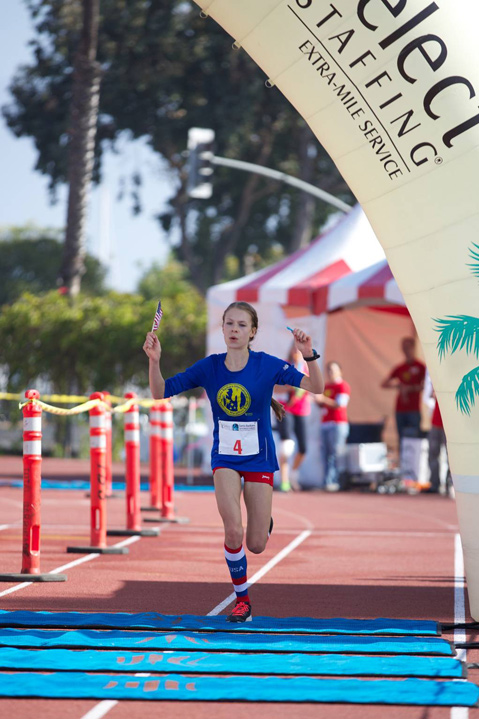 "This is the best race I've ever run," said Karhu, who did not start competing as a distance runner until her senior year at Rancho Bernardo High in San Diego. She'd played soccer before that. Her first race actually was San Diego's Rock 'n' Roll Marathon, which she ran in 3:45 as a 16 year old. She ran cross country and track at UC Berkeley.
For the fourth straight year, a native Kenyan was the overall marathon winner. Kentucky resident Peter Kemboi finished in 2:32:08. He was followed by Australian Julian Spence (2:33:02) and Karhu. The second-place woman was Mollie Rosing (3:11:12) of Newport Beach. The marathon had 1,092 finishers.
Leading more than 2,500 half-marathon runners across the finish line was Oxnard's Aaron Sharp, a 2003 graduate of UCSB, in 1:07:48. Eulogio Rodriguez (1:08:19) of Pasadena was second, and Geoff Burns (1:10:47) third.
Santa Barbara attorney Jill Himlan (1:22:16) was the women's half-marathon champion. Close behind her were Marie Schaper (1:22:32) of Simi, and Julie Sawyer (1:23:14).