Briefs
Family and Friends Gather to Remember Fall Victim
Student Group Pushes to Improve Fencing Along Isla Vista Cliffs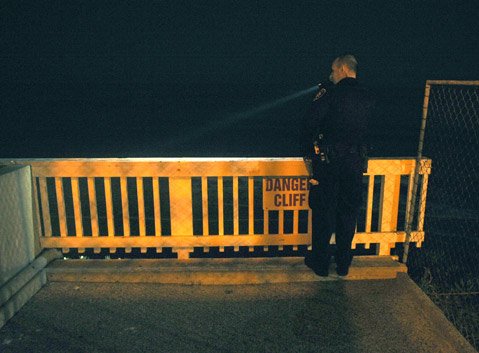 A small group met by the lagoon on the UCSB campus last Saturday evening for a vigil in memory of David Propp, a student who fell to his death from the Isla Vista cliffs exactly one year ago that night.
They started arriving around 5 p.m., as the sun began to set behind a shock of electric pink cloud in an otherwise clear sky. By 6 p.m., two dozen people were there, including Propp's close friends from school, work, and the a cappella group in which he sang. His parents also attended.
"Our gathering here today serves as only one harsh reminder of the many students that have passed due to the unsafe realities of this place we call home," said Molly Morrison, a member of the university's Associated Students and member of Fence Isla Vista, a group working to see more fencing put up along the entire run of cliffs. The Fence Isla Vista's Facebook page says that since August 2012, seven people have fallen from the cliffs; two of them died.
Morrison then introduced Alex, who read a poem written by former Irvine Mayor Beth Krom, whose son Noah died from a fall behind a house on the 6000 block of Del Playa Drive in 2009 one week before graduation.
Together, they then each lit a candle and walked quietly toward the beach beneath Manzanita Village. They stood in a circle and shared memories about 21-year-old Propp, whose body was found on the beach by a jogger the morning after his death. And together, they described a young man who made life better just by knowing him. Propp's father also shared something his son once told him: "There's a relationship to be made with anyone. You just have to take the time to find common ground." Finally, seven members of the a cappella group Brothas From Other Mothas sang "And So it Goes" in Propp's honor while waves crashed not far away.
A few days later, Morrison said in an interview that she didn't even know about Fence Isla Vista until the spring, when a friend suffered a similar fate. Then, Giselle Ayala, an 18-year-old Cal Poly student, died in April from a cliff fall during Deltopia, the annual spring break party that attracts thousands of students to Isla Vista.
Morrison said she contacted the students running the project, which consisted of taking photos of all the backyards along Del Playa and then rating them by one of three colors — green meant safe, yellow meant it could be safer, and red meant the property wasn't safe at all. Their plan was to document the need for a government-supported action that would require property owners to erect fences behind houses known to be magnets for large crowds of often inebriated students.
Morrison noted that although there is a requirement in the zoning ordinances that fences at least three and a half feet high be constructed, it only applies to new structures or full renovations. "It isn't retroactively enforced. So existing properties aren't required by any law to erect any kind of protection," she said.
So, Fence Isla Vista started an online petition to get sturdy barriers built along the cliffs behind the homes along Del Playa Drive. As of now, they've collected 364 signatures. Another 136 are needed.
In an email, Lauren McGarry, another student working with Morrison and others on the issue, explained that they'd like to approach the Goleta City Council with it, but that they've been told to wait until the word gets out more. "We were advised to wait on talking to the City Council until we had more community support and information and such so that our issue didn't instantly get thrown under the table," she explained.
McGarry also said that the group "talked to someone from Doreen Farr's office in spring but that was a quick meeting, and she basically just helped us with what direction we should go." For her part, Farr has recently been active in an attempt to get sound fencing along Walter Capps Park, the last stretch of public space unprotected in the party town.
But until there are more fences, Morrison said that safety needs to continue to be every student's responsibility and can mean the difference between a good time and the unthinkable. "We know kids will still make mistakes and accidents will happen," she said, but there's plenty students can do. She stressed that young people out partying need to maintain an overall awareness of themselves and surroundings. She also endorsed the buddy system.