Briefs
Considering a County Split
Supervisor Peter Adam Says North May Be Better Off Without South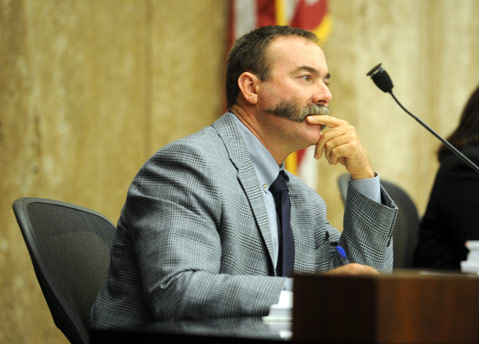 When the Board of Supervisors voted last week to green-light Santa Maria Energy's oil drilling project but at a stricter environmental standard than previously approved, the project's supporters worried the company would abandon its plans entirely, and its detractors rejoiced at the possibility of a new de facto county emissions standard.
Meanwhile, Supervisor Peter Adam ​— ​who not only voted against the stricter threshold but also made a motion to make the threshold even lower than before ​— ​took things a step further in an op-ed he wrote on Sunday, reviving a suggestion last considered in 2006: a county split.
"People in the North County have tried to split Santa Barbara County twice in the last 30 years," he wrote in his op-ed. "The lack of respect and paternalism that we saw last Tuesday is why. We in the 'colonies' would like to see this change." Adam said in a later interview that he had always thought separation was a bad idea, but last Tuesday's vote changed his mind. "I'm not necessarily advocating a split," he explained, "but it may be something people have to consider if this is the way it's going to be."
Santa Maria Energy's project ​— ​136 cyclic steam injection wells, along with two emissions-producing steam generators, an oil pipeline, and a recycled water pipeline ​— ​is going to be held to a strict greenhouse-gas emissions limit of 10,000 metric tons per year, down from the approximately 62,000 tons per year approved by the county's Planning Commission in September. That 62,000 figure ​— ​which the Environmental Defense Center appealed, leading to the supervisors' decision ​— ​resulted from a 29 percent emissions threshold for the wells' projected emissions of 88,000 metric tons a year, a threshold almost twice the state's 15.3 percent standard. To mitigate its emissions down to 10,000, Santa Maria Energy will have to employ on-site measures and buy reduction credits to the tune of about $500,000 a year.
Bob Poole, the company's public and government affairs manager, said that while Santa Maria Energy won't file a lawsuit against the county for the supervisors' decision ​— ​and that the project will move forward ​— ​the company is neither pleased with the vote nor able to guarantee the same number of jobs, tax revenues, and community support. "I think Supervisor Adam's op-ed accurately portrayed the dysfunctional situation in Santa Barbara County," Poole said.
But Supervisors Salud Carbajal, Janet Wolf, and Doreen Farr ​— ​all of whom voted for the more stringent threshold ​— ​don't think that their decision on the project should lead to a discussion on splitting the county in two. "This project is moving forward. Jobs will be created and greenhouse gases will be mitigated," said Carbajal. "It's making a mountain out of a molehill." Wolf agreed, saying that the split suggestion is "so unfortunate and really serves no purpose" and noting that when the separation was put up to the voters in 2006, more than 80 percent voted against it. "I don't think this is a north-south issue," said Farr. "The vast majority of the votes that the board makes are unanimous votes," she said. "For issues big and small in each district, when the votes aren't unanimous, they can break in a lot of different directions."
After delivering a fiery speech last week in support of keeping the threshold as approved by the Planning Commission, 5th District Supervisor Steve Lavagnino said recently that he agreed with the "meat and potatoes" of Adam's op-ed but not the suggestion of a split. "Different parts of the county have strengths and weaknesses, and I think we're better as one," he said, noting the majority of the county's property tax revenues come from South County. "Some people say we need to get a divorce. I think we need to go to counseling and work out our problems."