Cultivate "The Feast" Red Blend 2010: Santa Barbara residents Ali and Charles Banks built their reputation as vintners of luxury brands like Screaming Eagle and Jonata, and continue doing so via legendary labels such as Mayacamas, Mulderbosch, and the recently acquired Qupé. But their most lasting mark may be in the philanthropically minded, affordably priced Cultivate Wines, which, in donating 10 cents of every dollar made to charity, has given more than $400,000 to 45 American organizations since 2011.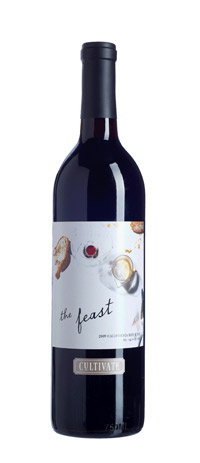 Help yourself and others this Thanksgiving by finding "The Feast," a Right Bank-leaning, $18 red blend of 78% merlot from Sonoma's Alexander Valley, 9% cabernet sauvignon from Napa, 8% malbec from the Santa Lucia Highlands, and 5% syrah. It's brooding with earth and spice, but laden with deep California fruit.
White wine lovers can safely opt to sip and support with "Dream Walking," Cultivate's blend of Mendocino and Sta. Rita Hills chardonnay.
See cultivatewines.com.