Arts & Entertainment
Bilingual Books for Kids
Sonia Colasse Teaches English, Italian, and French in the The Adventures of Enzo Series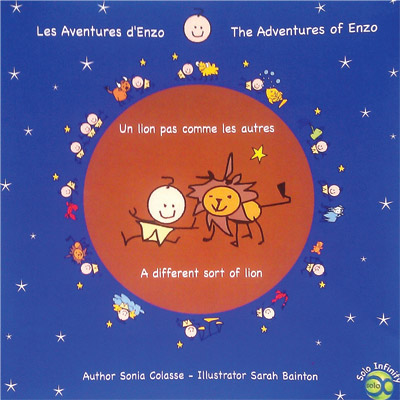 Upon arriving in the United States from their native France years ago, Sonia and Laurent Colasse saw how hard it was for their older children to adapt to the English language. When the Santa Barbara-residing couple saw how easy it was for their youngest child to learn, Sonia started to pen The Adventures of Enzo, which has grown into a series of 12 books aimed at teaching basic English, French, and Italian to kids ages 3-7. She answered a few questions about the series last week.
What inspired you to create this chidren's book series?
The idea comes from my husband, who hoped to again find values like respect and share it with all the children of the world. I liked the idea very much, and my last child made me discover the innocence and the purity of a newborn. My stories are inspired by my imagination and my personal life.
Is Enzo based on a real child?
Yes, Enzo is the name of our youngest child. The character was created by illustrator Sarah Bainton, who called the baby "Baby Star" before we bought the drawings to start the adventures of Enzo.
Why is it important to introduce children to new languages at a young age?
In my opinion, young children learn new languages easier than adults. Our experience has confirmed it. We are French, and when my two older children arrived in the U.S. at the ages of 7and 11, we saw their difficulty in learning the new language. Our son Enzo went to a Montessori preschool for two years, where both French and English were spoken each day. Enzo is naturally bilingual. It's important that children learn to communicate with their friends and to share their different cultures.
How have the books been received by the public?
My experiences at book-signings show that the public approves. The children adore the drawings and the stories; the adults find my words adorable, but foreign languages scare them away. The adults are usually afraid to read the stories in another language, afraid to pronounce the words incorrectly. That's why it's important to include a CD, which is what we are preparing.
What do you hope happens with this series?
I want this series to be found in the hand of every child of this world. I'd like schools to use them as a tool to learn new languages and hope that The Adventures of Enzo continue the trip with other stories.
4•1•1
Sonia Colasse's The Adventures of Enzo series can be purchased at soloinfinity.com.