Briefs
Deputies Bust Santa Maria Cockfighting Ring
4 Men Cited; 19 Roosters Recovered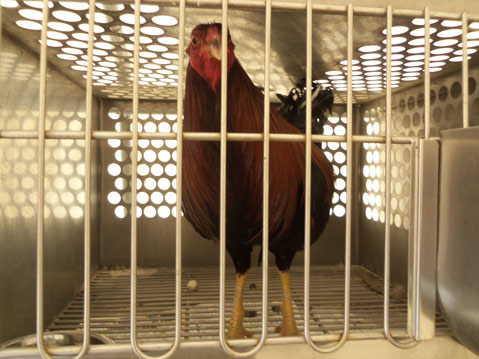 Sheriff's deputies issued trespassing citations to four men — two of whom also received citations for possessing fighting birds — on 12/5/13 after a group of 20-30 people were found allegedly engaging in activity consistent with rooster fighting, otherwise known as cockfighting, in Santa Maria.
On Sunday, officers found about 20 cars parked on private property near the Santa Maria Airport and heard roosters nearby, said Sheriff's spokeswoman Kelly Hoover. Most of the people present ran away but the deputies detained four of them. The authorities, along with officers from County Animal Control, recovered 19 roosters and paraphernalia consistent with gambling and cockfighting, including metal spurs, twine, tape, scales, and boxes for transportation. Two of the roosters had to be euthanized due to their injuries.
Santa Barbara resident Cipriano Rodriguez, 77, and Santa Ynez resident Armando Villa, 32, were each cited for possession of fighting birds and trespassing. Santa Maria resident Jose Alvarez, 85, and 55-year-old Carlos Villa, of Buellton, were cited for trespassing.
Hoover said that the case has been handed over to the District Attorney's Office. "If you see similar suspicious activity involving roosters, you are encouraged to immediately report it to local law enforcement," Hoover said.