Sports
Sports Roundup
UCSB Men's Basketball, Volleyball, and the Rincon Classic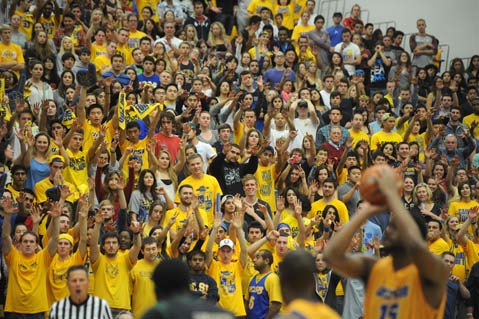 Another night at the Clunkerdome, and UCSB will find itself in a hole to start the Big West men's basketball race. An abysmal shooting performance from the perimeter (three-pointers: 2-for-17) was the lowlight of the Gauchos' 72-64 loss to Cal Poly in their conference opener at the Thunderdome last Saturday.
Their highlight — and a reason to buy a ticket to a Gaucho game — was another strong effort by Alan Williams (33 points, 15 rebounds), which moved the junior forward up the NCAA charts in scoring (No. 3 with a 24.3 average) and rebounding (No. 6, 11.1). But even Big Al had an embarrassment, a wide-open layup that he missed at the end of the first half. He appeared to be thinking about a dunk as he approached the basket, and then changed his mind, resulting in a bungle at the rim. Much more typical of his play was the shot he banked in while outmuscling a triple-team of Mustangs in the second half.
But it was Cal Poly that drained the clutch shots, including several killer threes that stymied UCSB's attempts to rally. There was a good crowd on hand, boosted by a contingent of alumni wearing "Gaucho for Life" T-shirts, and no sooner did they get excited than a UCSB mishap would quiet them down. Coach Bob Williams apologized to the fans in his postgame radio interview, hoping they will continue to support the team.
The Gauchos, 9-5 overall, are under suspicion of having taken Cal Poly (6-9) too lightly — not a good idea when your rural rivals are apt to turn the cow-chip jokes into a big chip on their shoulders. The Mustangs are one of three teams off to a 2-0 start in the conference. Coming into the Thunderdome tonight (Thu., Jan. 16) is another team with a deceiving record of 5-11. Long Beach State has lost to four nationally ranked teams and is 4-2 since UCLA transfer Tyler Lamb became eligible. On Saturday, UCSB plays its first Big West road game at Cal State Northridge, which is 10-7 overall and 7-1 on its home court, the Matadome. Both of the Gauchos' upcoming games will be televised — tonight's at 8 p.m. on ESPNU, Saturday's at 7:30 p.m. on Fox Prime Ticket.
Meanwhile, UCSB's women play their first home game of the New Year at 2 p.m. Saturday against Northridge. Westmont College hosts Vanguard University in a spectacular Golden State Athletic Conference double-header Tuesday (Jan. 21). The Warrior women are defending NAIA national champions, and Vanguard's women are currently undefeated and ranked No. 1. Their 5:30 p.m. game will be followed by a matchup of men's teams that are a combined 24-5 entering conference play.
THREE WEEKS, THREE NUMBER ONES: The college men's volleyball rankings have been reshuffled twice since defending national champion UC Irvine topped the preseason poll. Long Beach State rose to No. 1 after winning the UCSB Asics Invitational but subsequently lost a match at BYU. The new No. 1 is Stanford, which visits UCSB on Saturday night at Robertson Gym.
RINCON CLASSIC: A sunny winter day with a swell rolling in at Rincon Point is the definition of paradise for any beach boy or girl. Kemp Aaberg cherished those times when he was a teenager in the late '50s.
"I'd drive my Oldsmobile V-8 up the coast every weekend with my surfboard and a sense of adventure," said Aaberg, a West L.A. native. "There would be only a few other cars parked on the road. I'd put a sleeping bag right on the sand and wake up to these fantastically shaped waves peeling along the shore. The way the creek comes in, it built a shallow reef. When the storms are a distance away, the waves are well defined, rolling on a smooth platform."
Aaberg was one of the most accomplished surfers of his day. Fresh out of high school, he appeared in one of Bruce Brown's early films in Hawai'i. After graduating from UCSB, he traveled to big-wave spots around the world. But when it was time to settle down, he did so in the vicinity of those shapely Rincon waves.
There will be hundreds of surfers converging on that site this weekend if the 31st Rincon Classic goes off as anticipated. As of midweek, conditions were promising for this Saturday and Sunday. The Classic is a contest that shows off the skills of young Santa Barbara surfers at the cutting edge of the sport.
"Our mindset in the early '60s was to emulate a bullfighter — keep your hands down, stay relaxed on top of the long board," said Aaberg, now 74. "Kids today have pumped it up. Their boards are flying through the air."