Announcement
100 New Goleta Apartments Available for Lease at Willow Springs!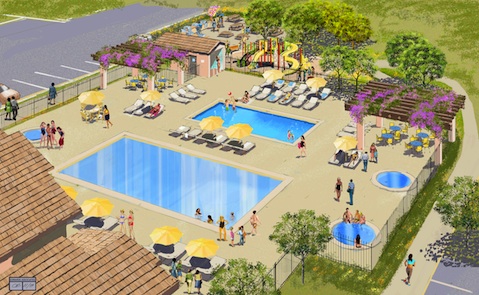 The Towbes Group, Inc. is excited to announce their new apartments in Goleta are ready for lease. The community will feature a variety of floor plans that range from one to three bedrooms. The Willow Springs community has been thriving in Goleta for more than ten years, and with the additional 100 apartments brings even more benefits to the community's numerous comforts. This project is a continuation of The Towbes Group's efforts to make Willow Springs an even more attractive housing choice for current residents and their neighbors.
Willow Springs residents can look forward to a new robust amenities area with two pools and three spas. The picnic area will be expanded with a new playground and barbeques. In continuation with the "healthy lifestyle" The Towbes Group embraces across both its residential and commercial properties, the fitness center will grow as well, to fit more work out equipment. An entertainment center is being upgraded in the Willow Spring's club house with a coffee bar, perfect for hosting friends and watching sports.
"The Towbes Group put in the extra effort to make Willow Springs an exceptional place to live. A lot of our employees live at Willow Springs, and there is an extra level of care and pride that goes into this community," explains Craig Zimmerman, President of The Towbes Group. "Already a favorite of UCSB employees and Goleta area professionals, it is certainly a home to a wide range of friends and family. We look forward to giving them a great place to call home."
The new apartments will be released in phases as they are completed, with the first becoming available in mid-February. For the most up to date information on Willow Springs, check out their Facebook page at https://www.facebook.com/willowapts or www.willowspringsapartments.com.
ABOUT THE TOWBES GROUP, INC.
Headquartered in Santa Barbara, the award-winning Towbes Group has extensive expertise in development, construction, investment, and asset management. Widely recognized for delivering excellence across all its products and services, the Towbes Group has distinguished itself as not only a trustworthy, innovative organization but also as a vital community member.
The company has developed 6,000 residential units and 1.6 million square feet of commercial properties primarily in Santa Barbara, Ventura and San Luis Obispo counties. They currently manage more than 2 million square feet of commercial space, including offices, light industrial and retail uses, and approximately 2,100 residential units. In addition, they are currently developing new homes and apartments in Santa Maria. More up to date information can be reached at www.towbes.com.