Film & TV
Alfredo's Fire
Director Andy Abrahams Wilson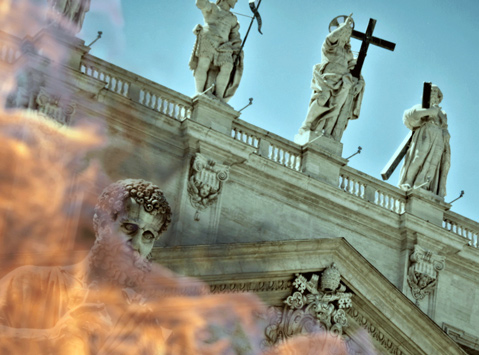 When gay Sicilian writer Alfredo Ormando set himself ablaze outside of the Vatican in Rome, he put the issue of how Italy and the Catholic Church treats homosexuals onto the world's stage. This film shows that, while many used him as a simple symbol to further their own causes or beliefs, Alfredo's struggles were much more complicated.
Why did you decide to reveal the internal part of this incident on film?
What drew me to this story was the paradox of fire. I was fascinated that the act of self-immolation could say so much in terms of the experience of being gay in the context of spirituality. Symbolically it was at once a coming out, a communion with God, an expression of passion and rage, a self-extinguishing and a beacon of hope. The expression "flaming fag" is a curious and cynical reminder of this ambiguity.
I wanted to focus less on the issue than the man on fire. As with the multifaceted, even poetic aspect of fire, what I uncovered of Alfredo and his "fire" became a Rashomon-like event, as the Church, the press, and the gay community scurried to pin conflicting and contradictory meaning on the dramatic and iconic gesture: Was it the act of a madman, misfit, or martyr? I wanted to discover what really was the fire that consumed Alfredo, and what are the lessons we can learn.
Have Alfredo's writings become more popular following his death?
Immediately after Alfredo's death, a Sicilian publishing house capitalized on the event to market "Il Frattacchione," a short novel that essentially chronicles Alfredo's two years spent in a Sicilian monastery. The book didn't sell well and, today, all of Alfredo's writings are archived in the public library of Bagheria, a small town near Palermo. Alfredo really hoped that his death would elevate him in the eyes of his family, society — and maybe even his God. He wanted to be "seen," which for a closeted gay man from a small town in Sicily was at once appealing, terrifying, and elusive. A fiery death seemed the only way "out" — and maybe the only chance both to be published and therefore accepted.
Has Italian culture changed in the 15 years since this incident? Is it more accepting of gays now?
Italian culture has changed significantly in the past 15 years and, in other ways, not at all. Had Alfredo's "fire" happened today, it would have been more difficult to quell the flames, so to speak. Because of the Internet and the sharing and organizing it has engendered, the gay community may have been able to create more awareness — and there may have been more of a cultural readiness to look at the issue other than in terms of shame or pity. In general, LGBT issues and the gay community have become much more visible compared to 15 years ago. At that time, gay people were still referred to as "different" with great stigma attached to the term. No out LGBT people were in the corridors of politics.
Today, Italy has several openly gay congresspeople as well as a gay governor of Sicily (though he prefers "homosexual" to "gay" and swore off sex when he was campaigning!). What hasn't changed in Italy is certain attitudes around suicide and family honor and shame, especially in the south. I believe if Alfredo's self-immolation happened in the U.S. he would have been embraced broadly as a martyr and symbol. In Italy, even many gay people look derisively at his action, as if he brought shame or dishonor to the "family" and to the movement. As if he were a madman to take his own life. I believe a lot of these attitudes are subtly or unconsciously influenced by Catholic guilt and the sin of suicide.
Does it seem like the Catholic Church will ever become more accepting of gays?
Already many believe that the new Pope is opening new doors. We've come a long way from Pope John-Paul, who said that gays were "intrinsically disordered" to Pope Francis who said "who am I to judge." But the culture and institutions of the Catholic Church are deeply conservative and entrenched. Unfortunately, there is an impossible divide to breach as long as religions interpret the word of God as both "good" and unchangeable.
Perhaps the framing of the issue in terms of "rights" is shortsighted. Human-instituted rights (vs. the rule of God) will always lose. Even in our film, Alfredo's companion Gaetano (himself gay) says that the gay activists were barking up the wrong tree: "God said Go forth and multiply, so it's not about the Church. It's about the word of God. You can't change the word of God."
As more expansive and less fundamentalist thinking evolves, this is bound to change with time. But I believe the change will happen from within, and certainly the fire of our passion, desire, and truth is already making a difference. Showing more and more stories of the irreconcilable struggle and suffering of "believers" like Alfredo will be an important part of the change.
Does Afredo remain an icon for gays in Italy and beyond?
No. Even though it was Alfredo's action that prompted the first-ever protest against a Pope by the Italian gay community, as well as the catalyst for the first World Pride event (in Rome), Alfredo has essentially been forgotten. Some Italian gay leaders believe that his self-immolation was the spark of the "Italian Stonewall" but this is disputed by others. His action is likely destined to become a footnote in Italian LGBT history.
In other parts of the LGBT world, Alfredo is virtually unknown. Jan Palach (the Velvet Revolution) and the Algerian street vendor (the Arab Spring) come to mind as similar actions prompting very different historical relevance. But the cultural and religious grounds were not fertile for Alfredo's fire to spread. A Church that tamped down and "spun" the controversy, strong religious biases against homosexuality and suicide, and a fledgling and splintered gay movement consorted to extinguish Alfredo's fire almost as quickly as it was lit.
Check the latest schedule here.